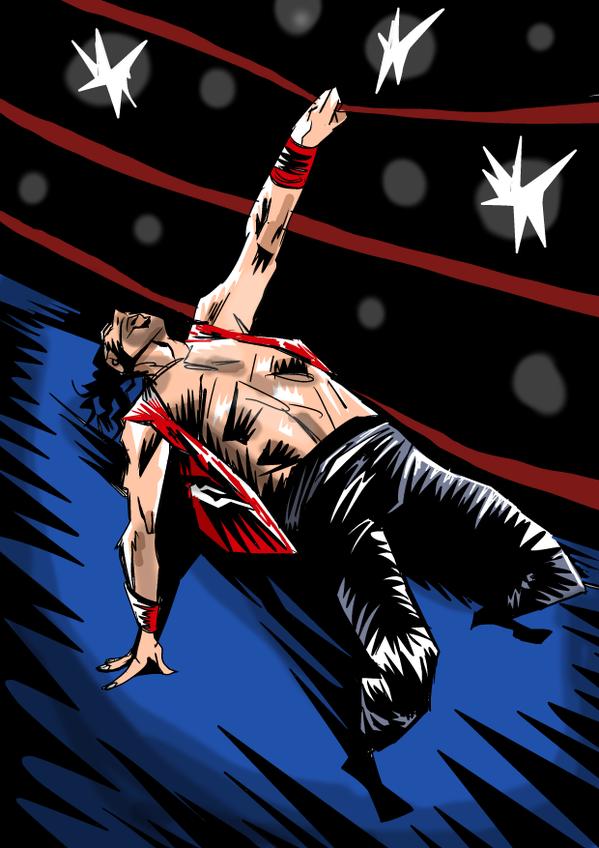 When Hugh's Views on Talking Sheet starts, Les plays a funky little beat so it's weird to just start with no beat. But we'll change that soon enough. Check it out, my week in the world of wrestling starts like many still dealing with the fact "Rowdy" Roddy Piper was gone and we went through yet another 10 bell salute to start RAW.
He was a childhood icon to me growing up in the Bay Area. I will truly miss him and keep his spirit alive. I even own a Hot Rod T-shirt that, when I put it on, I mouth off to everyone just like Piper. I remember watching tons of wrestling at my parents' friends house when they would watch my sisters and me growing up. Seeing Piper was kind of scarey as a kid, cause he was nuts! When he was on TV you couldn't take your eyes off him, his look, the way he talked, he was larger than life to me. Plus throw in a Cyndi Lauper and a music video and he was threw the roof for me. He was so fucking great. That time in my life was great. So thinking about Piper during this era will always bring back nostalgic feelings of growing up as a kid in the late 80s.
https://www.youtube.com/watch?v=kjYj5pnN8Xg
That song epitomizes everything great about the 80s. The music, the wrestlers, the movie… Goonies Never Die!
———
Melty 5 Star
In the April 13, 1987 Wrestling Observer newsletter Meltzer gave the 3/20/87 New Japan match – Shiro Koshinaka & Keiji Muto vs. Nobuhiko Takada & Akira Maeda 5 stars. "Muto & Koshinaka upset Maeda & Takada to win the IWGP tag belts in a tourney finale when Koshinaka cradled Takada (They switched the belts to Maeda-Takada six days later in Osaka). This match was sensational and a candidate for match of the year. *****
Les and I talked about this during the Rear View segment on Talking Sheet 19 so I watch this match. Let me tell you these guys were so athletic and fast it was amazing. I mean Holy Shit was this crazy! I'm talking nonstop action the entire match, which was a little over 20 minutes. I thought Shibata was a mean kicker pffffffffffft. Takada & Maeda were ven more brutal with their kicks. There was so much action in this match I could never do it justice writing about it. One move I really loved was Muto's moonsault it's so perfect. It was entertaining as hell and I even ended up watching the rematch six days later, which was really good too. Reading these old observers from 87 have inspired me to watch so many great matches I may of never watched in my life. It's been a really cool adventure.
3/26/87 Match "Six days later in Osaka"
———
Crockett Cup

Another event we are talking about during the Rear View segment of Talking Sheet is the Crockett Cup II. Les and I even had Shake Them Ropes Co-host Jeff Hawkins on TS20 to talk Crockett Cup as well as other topics. I watched the show and it's a piece of work. Day one is job city, but Day 2 is pretty cool and Dave even gave the Windham vs Flair title match 5 stars. This fucking tourney was nuts, most of the matches were flat out brawls. A few matches ended in out of control fights which usually involved Jim Cornette. The crowd sounded really hot for the majority of time and really added to the crazy atmosphere. The five star match of Windham vs Flair was epic and the more I see Windham the more he reminds me of Kiefer Sutherland in Lost Boys.
———
G1 Update
Tragedy and Comedy #njpwfanart #njpwworld @s_d_naito @YTR_CHAOS #g125 pic.twitter.com/0E25moueos

— PRBM (@punkrockbgmouth) August 8, 2015

The second half of the G1 Climax got under way this week. I've watched every match so far even if I'm a few days behind the live action. After I get done with a night I like to check out what people had to say about it. Sean Radican at PW Torch has great coverage G1 and offers star ratings, which for me I enjoy. Over at WO/F4W online Bryan Rose is covering it with Meltzer type orders of small write ups. Which is totally cool and I sure people like. I only say that because Bryan Rose also does the occasional review of G1 on the Voices of Wrestling website where he adds a bit more personality to what he's written on WO/F4W. All the reviewers at voices of wrestling use GIFs from LARITOOOOO!!! and other imagery to their article which add life to the experience of reading a review.
https://twitter.com/SenorLARIATO/status/630352542031986688
PW Torch
Sean Radican's  Reports:
WO/F4W
Bryan Rose's Reports
Voices of Wrestling
Night 10: Bryan Rose 
Night 11: Rob McCarron
Night 12: Rich Kraetsch
Night 13: Bryan Rose
Hugh's View of G1

G1 is so much fun. Sure there have been a few boring matches but for the most part every match means so much so they all have an intensity and edginess to them. I find myself rooting for guys I didn't expect and liking matches I didn't expect either. This is all due to the fact I participated in the Voices of Wrestling Pickem. So now I have vested interest in each outcome. A few guys have grown on me as the tournament goes on. Toru Yano has really become a fun watch and Michael Elgin & Tomoaki Honma have been cool too. The man that's stealing the show is Naito, he is putting on a great show. I love when he throws the ref around at times, spits at everyone and poses while standing on wrestlers faces it's so awesome. On top of all that I get Nakamura every other show… Is this Heaven?
#NAKAMURA #SHINSUKE #KINGOFSTRONGSTYLE #YEEOH pic.twitter.com/rEXtHbBYnW

— Danny Kelly (@TheRealKINGDOG) June 14, 2015

———
Ultima Lucha – Lucha Underground
https://twitter.com/FanOFRousey/status/629460466310492161
Dayyyyum… Melissa Santos is one beautiful lady! She is a fantastic ring announcer and I totally have a crush on her. Yes I'm married but ask my wife about The Rock and she puts me saying I have a crush on someone to shame.
So Lucha Underground's Part 2 of Ultima Lucha recently aired and I rarely ever get to watch live, so I DVR it in the back room where I can watch wrestling and not bother Mrs Little. Thusday I got all pumped up to watch even warmed up food and had a beer. I go to check the DVR and nothings there! Ok I had like 4 TNA shows I haven't watched but no Lucha. I went through all the stages of emotions. Shock, Denial, Pain, Anger, Depression, Acceptance and hope. And Hope was all I needed to start digging for another showing. Which I found on spanish channel Saturday at 4. It was all in spanish I didn't care – I needed my Lucha.
The show was really cool and totally fun to watch even in spanish. My two dudes Lawrence and Jeremy have their reviews below so feel free to check them out. I just want to say Lawrence really did a great job and I felt like he was talking to me and brought up great points and had emotional moments during his piece, even thanking everyone who followed along during the coverage of Lucha Underground and hopes it comes back for a season 2. I hope the fuck they do that too. It was something new and it was a blast to watch. Do the right thing someone with money and back this for a second season. Do It, Do it, Do It!
———
VoW Match of the Month (June 2015)

Just wanted to give people a heads up that Voices of Wrestling has it's June matches of the month out. It fun to see what people voted on and it's a really useful reference to matches you may have missed. One match I'd eventually like to see is the Will Ospreay vs Matt Sydal match. The cool thing about this article they put links to the matches. I'm telling you good stuff is going down at Voices.
———
Hoodslam

This last Friday Hoodslam had their Battle Royal of Supremacy and Golden Gid Title match Brian Cage vs Current Champ and one of my favs Drugz Bunny. It looks like Bunny was all hopped up. wink wink. I found a review on PW Ponderings that I'm not sure who wrote but I was pumped when I found it. I'm so glad they are getting more coverage.
And still The Champ @DrugzBunnyFTF #hoodslam #goldengig #battleroyalofsupremacy #FTFriday pic.twitter.com/9Tvv44Qqiz

— Kevin Prado (@Kev_415) August 8, 2015

———
Power Rankings
August 8 – 15