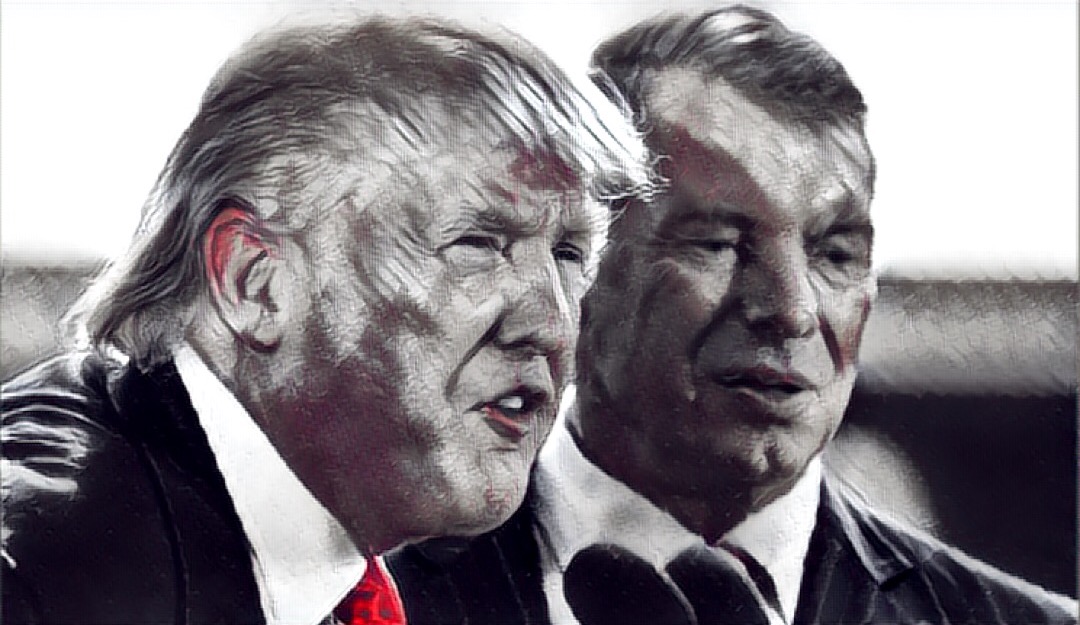 Linda McMahon, wife of current WWE Chairman and CEO Vince McMahon reportedly has forgotten why she and her husband donated a total of $5 million to Donald Trump's illegally operating personal charity between 2007–2009.
WrestlingInc. founder and writer Raj Giri couldn't have known that the article he penned on September 26, just last week would soon have far more wide reaching implications than the angle he took then. There is no fault there that the focus of the piece was on learning what Donald Trump's payday was for working with Vince McMahon at WrestleMania 23 in 2007, and another angle with the company in 2009.
Giri leveraged the work of Washington Post reporter David Fahrenthold, who has done tireless work on the topic of Trump's charity—the Trump Foundation—for the paper to report on how Vince and Linda McMahon paid the Trump organization $4 million in 2007, and an additional $1 million in 2009.
Giri, like many others, quickly drew a correlation from this money to Trump's work for World Wrestling Entertainment in those years.
In an article early Monday Fahrenthold, writing for the Post, reported that that New York State Attorney General Eric Schneiderman had announced had ordered the Trump Foundation to cease fundraising. It is in violation of the law, illegally soliciting donations without proper authorization.
"Trump's foundation had avoided rigorous annual audits that New York state requires of charities that seek the public's money. Those audits would have asked, among other things, if the foundation's money had been used to benefit Trump or one of his businesses."
Fahrenthold would write in his latest article that there is a great degree of question surrounding why people have donated such large amounts of cash to the charity. And, more oddly, the donors themselves are being uncharacteristically tight lipped as well.
" …Some of those donors have not said whether Trump himself solicited their gifts.

Vince and Linda McMahon, the pro-wrestling executives, have given a total of $5 million and have declined to comment. NBCUniversal, which televised Trump's reality show, "The Apprentice," has declined to explain the reason behind its $500,000 gift in 2012."
In an appearance last week on Fresh Air, Fahrenthold picked up on an AP story shortly before the first presidential debate wherein Linda McMahon claimed not to remember why she and husband Vince, the chairman of WWE, had donated to the charity.
"McMahon and her husband contributed a total of $5 million to Trump's foundation in 2007, a donation McMahon said she did "not remember how it came about." She said she has no misgivings about making the contribution, ultimately the largest to Trump's foundation.

"Once you're his friend, he is loyal to the end," she said. "He's an incredibly loyal, loyal friend."
Fellow Washington Post reporter Philip Bump noted on September 21 that the biggest single contribution to the Foundation came in 2007 when Vince and Linda McMahon paid $4 million dollars in a contribution listed in the foundation's tax filings as having come from WWE itself. Bump would note, however, that a representative of WWE told The Post that was incorrect, and that the donation had come from the McMahon's personally.
According to Fahrenthold on Twitter, WWE has also claimed that these donations were in ADDITION to Trump's undisclosed appearance fee.
What's odd is that WWE says @realDonaldTrump *also* got paid an appearance fee for Wrestlemania. McMahon gift was additional. https://t.co/HDF2CeK66w

— David Fahrenthold (@Fahrenthold) September 20, 2016
And that a spokesperson for Linda McMahon has denied any connection to Trump's 2007 appearance at WrestleMania and the $ million donation.
.@Linda_McMahon WWE spox says "No connection" btw @realDonaldTrump coming on Wrestlemania in '07 and your $4M gift to his Fdn in '07. None?

— David Fahrenthold (@Fahrenthold) September 23, 2016
The question here remains, why would the McMahons donate such large sums of cash to a friend's charitable fund, a fund he himself had long ago ceased being a large donor to? Why have the McMahons (and their strategic business partners NBC as well) declined to comment on their gifts to the Foundation? Why would they agree to pay Trump in this manner?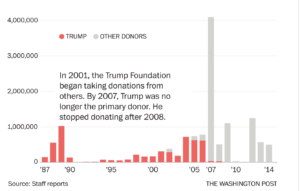 I'm hopeful that in the coming weeks, if wrestling reporters pick up on this story, the angle will not be focused on the revelation of how much Trump was paid for his appearances for the company in 2007 and 2009.