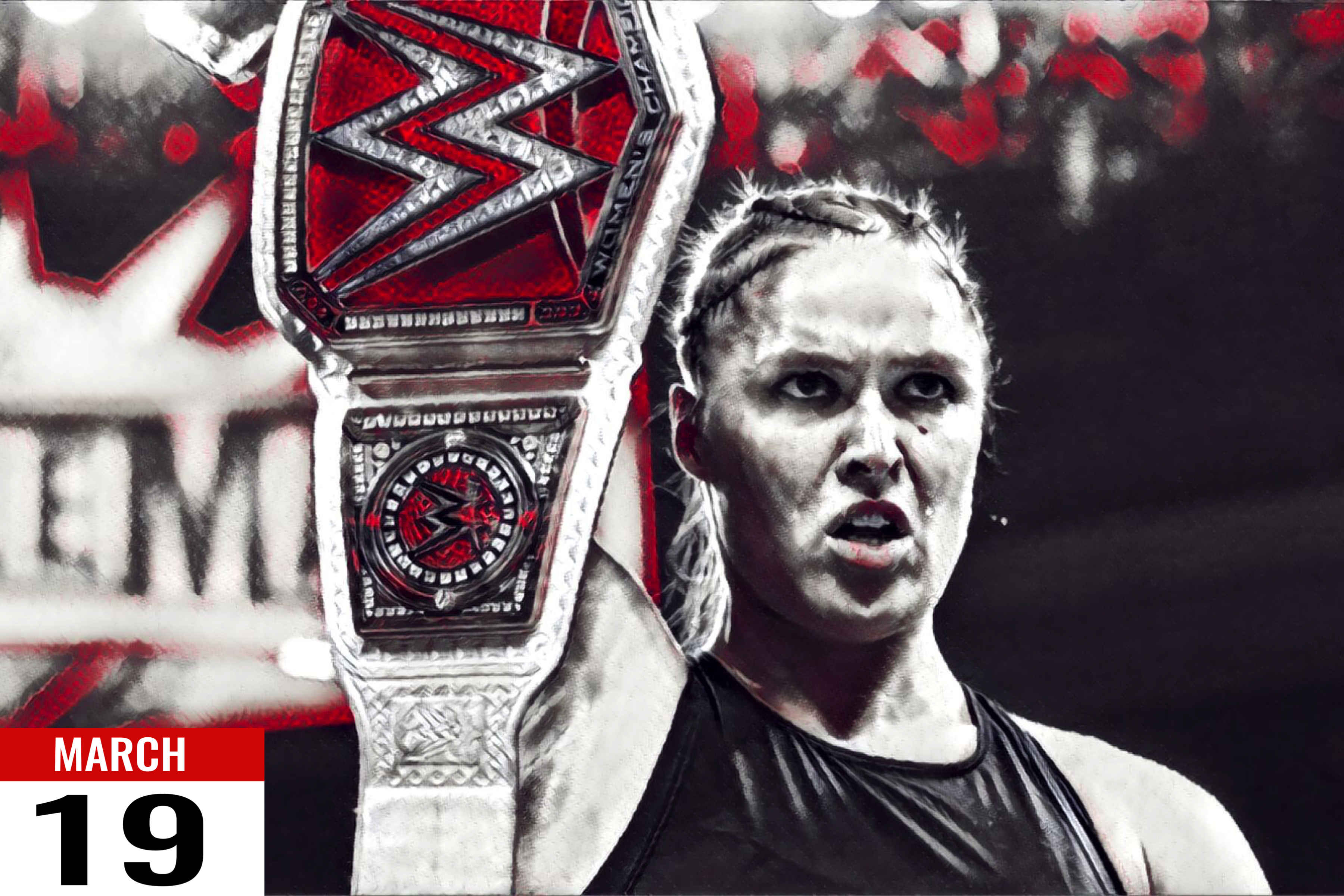 Hello everyone, this is your Morning Sheet for Tuesday March 19.
Catch up with what made headlines on Monday, and what people were talking about after WWE Raw went off the air.
Giovanna Different Match, Baby
Norm Quarrinton over at Pro Wrestling Sheet has reported that Kurt Angle's wife Giovanna took to twitter to voice her dissatisfaction with her husband's match at WrestleMania.
Kurt Angle announced on Raw that he wanted to face Baron Corbin in his farewell match next month. Angle said Corbin had made his life "miserable for six months," and wanted to beat the man who helped oust him as General Manager of Raw.
This came as a fairly universal disappointment, not only in the All State Arena in Chicago Rosemont, Illinois, but on twitter among fans as well. And why not? After all, this was a match full of speculation that, perhaps, John Cena would be Angle's opponent. Dave Meltzer of the Wrestling Observer Newsletter even gave this some juice on his podcasts over the last several days, noting that Angle had been Cena's first opponent when he started on SmackDown eons ago.
This was certainly on the fans in attendance on Monday, too.
And it wasn't just fans, either… Good ol' JR tweeted first, responding to Busted Open Radio's dissatisfaction of the match with "Underwhelming"
Pro Wrestling Sheet reported that Giovanna replied "Very" to JR's tweet (the response has since been deleted). Quarrinton also notes that during the Angle segment, while the fans were chanting "We want Cena," she repeated the chant in a tweet along with, "… we feel ya"
The Johnson 5
Mike Johnson over at PWInsider got the week started with an impressive slew of wrestling scoops Monday morning.
It started with Johnson's report that WWE Superstar AJ Styles had agreed to terms on a new deal to keep him in the company.
Styles would later tweet out his own confirmation of this news, along with word that he and his family had recently adopted a new dog.
Details regarding the dog's name, gender, and breed were not immediately available.
Next came word that Dana Warrior had become an official, full-time employee of World Wrestling Entertainment.
Ms. Warrior had been with the company since earlier this year after pitching herself as a potential writer to Vince McMahon, believing she could offer a "female perspective" to the company, as reported several weeks ago by Johnson and others.
Johnson would then report that WWE had signed former Impact Wrestling X-Division champion DJ Z to an NXT contract.
Johnson notes that the 32 year old wrestler received the offer in the last week of February.
In his fourth scoop of the morning, Johnson reported that WWE has pulled Luke Gallows and Karl Anderson from all upcoming live events.
This follows his recent reports that the duo declined to sign lucrative long term contract extensions.
Finally, Johnson reported that Sin Cara has re-signed with WWE for three years.
Johnson notes that, while Sin Cara has been off TV since late last summer, he has been backstage recently, and working out in the ring at the Performance Center getting ready for his return.
Warrior Winner
WWE officially announced that long-time company employee Sue Aitchison will receive the Warrior Award during the company's Hall of Fame the night before WrestleMania.
Aitchison is described in the company press release as a 30-year veteran of the WWE corporate office, and is widely credited for leading the company's community outreach programs, including building WWE's relationship with Make-A-Wish.
Writing about Aitchison on his website, Dave Meltzer notes:
"I want to make mention of how much Sue Aitchison deserves the WWE Hall of Fame award she is getting. She has worked behind the scenes and people within the company understand her work and how much she's done but I'm glad the public will get to know at least a little of it."
Ric Flair also took to Twitter to praise Aitchison as well…
RIP Kirby
John Pollock over at POST Wrestling passed along word today from historian Scott Teal who reports that former NWA Jr. Heavyweight champion Roger Kirby has died at the age of 79.
He is noted as having been a well-traveled wrestler, spending time in Kansas City, Georgia, Florida and Oregon most notably.
Kirby was the cousin of longtime wrestling trainer Les Thatcher, who says:
"All of us that were lucky enough to share a part of his life are better for it. Thank you for every minute we shared. Go with God as I know he will team you up with our cousin Dennis. Know that I will think of you often and relay some of our crazy stories from the road with so much love and respect. God bless you."
Jeremy Thomas over at 411 Mania also has a piece looking at the career of Kirby, and reporting his passing.
RAW Headlines
Here are the Top Takeaways from RAW Monday night in Rosemont, Illinois, based on how frequently they received headline articles on select wrestling news sites:
Kurt Angle announced that Baron Corbin will be his opponent at WrestleMania
Headlined at:
Braun Strowman enters Andre the Giant Memorial Battle Royal
Headlined at:
No Headlines for this story appeared at POST Wrestling, PWInsider, Pro Wrestling Sheet, 411 Wrestling
Travis Browne & Ronda Rousey Get Rowdy with WWE Security
Headlined at:
No Headlines for this story at F4W, POST Wrestling, PWInsider, SEScoops
Drew McIntyre Challenges Roman Reigns at WrestleMania
Headlined at:
No Headlines for this story at F4W, SEScoops, POST, PWInsider or Pro Wrestling Sheet
Beth Phoenix and Natalya challenge Bayley and Sasha to a match for the WWE Women's Championship at WrestleMania
Headlined at:
No Headlines for this story at F4W, POST Wrestling, PWInsider, SEScoops, 411 Wrestling
Elias will have a featured performance on the Grandest Stage of Them All™
Headlined at:
No Headlines for this story at WrestlingInc. POST Wrestling, PWInsider, Pro Wrestling Sheet, SEScoops, 411 Wrestling
Neither PWTorch or ProWrestling.net had any RAW-specific headlines, but Wade Keller of the Torch and Jason Powell of .Net each filed show reviews on their sites.
And, of course, Larry Csonka's reviews are always worth checking out. His WWE Raw review is here.
Tidbits
** Dave Meltzer reported in his Daily Update today that in addition to the Andre the Giant Memorial Battle Royal that was announced on RAW Monday night, there are also plans for the Women's Battle Royal as well.
** Glenn Jacobs (Kane) and Titus O'Neil are writing autobiographies
** WWE announced to the live crowd during Raw that NXT Takeover: WarGames III would be held at the Allstate Arena on Saturday, November 23.
** The former Adam Rose announced he would be retiring from wrestling once his current commitments have ended, answering the question on nobody's mind, "whatever happened to Adam Rose?"
** Speaking of… (well, kinda), Jeremy Lambert at Fightful has the identities of No Way Jose's Rose Buds Conga Line from Raw.
** Ringside News, a wrestling new$ site that over the weekend had plagiarized the work of Brandon Howard Thurston, has since corrected their article and given Thurston credit for the source material, and embedded his original tweet on the subject of WrestleMania attendance figures over the years.