Elusive details emerge surrounding injured WWE Superstar's status
Early Wednesday morning WWE.com reported that Seth Rollins had suffered an injury Monday night at the hands of the debuting Samoa Joe.
The site confirmed that the injury was to Rollins' right knee, the same one he injured in late 2015, which caused him to miss WrestleMania in 2016.
Key details of that injury were recapped by Mike Johnson of PWInsider:
In 2015, Rollins suffered injuries to his right ACL/MCL/medial meniscus that required surgery.
F4WOnline's Joseph Currier's report included confirmation from the Wrestling Observer's Dave Meltzer that the injury had occurred:
"Dave Meltzer reports that Rollins suffered an injury on Raw in his brawl with Samoa Joe."
The article went on to note the potential ramifications of this injury, depending on its severity, especially given the close proximity to WrestleMania, where Rollins had been expected to face off with Triple H.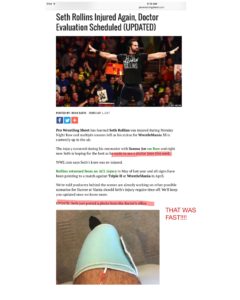 Pro Wrestling Sheet's Ryan Satin noted in his report that, "producers behind the scenes are already working on other possible scenarios for Hunter at Mania…" if it comes to pass that Rollins will be out for an extended period of time.
Satin claimed on twitter that he'd been working on this 123-word story all day Tuesday, which is why he hadn't posted any stories that day.
Still, it would seem as though key details in the story were missed, given that Satin claimed, "Seth is hoping for the best as he waits to see a doctor later this week."
But by other accounts, Rollins was already seeing a doctor Wednesday.
PWInsider's Mike Johnson reported that he had confirmed Rollins was already in Birmingham, Alabama being examined, and later in his own article, Satin posted an update embedding a tweet from Rollins from the doctor's office.
Wish I could say it was just a bad dream. pic.twitter.com/mr5vu1MEVp

— Seth Rollins (@WWERollins) February 1, 2017
Ironically, just a day earlier former WWE something or other, Brian Maxwell Mann, had praised Satin for his reporting being above simply passing along tweets.
https://twitter.com/BrianMaxMann/status/826511799050723328
UPDATE: New coverage on this story from Wednesday afternoon
Wade Keller of the PWTorch website in his editorial/analysis of the Rollins injury story reports that "the early fear among WWE sources is he could miss four-to-six months."
Keller goes on to address one of the most commonly buzzed about questions in the wake of the injury—whether Samoa Joe is being blamed for the injury.
Keller writes: "I don't know if Joe will take any heat for this, but between injuring Tyson Kidd in NXT and now Seth on Raw in his debut appearance, it's not the type of record you want."
Dave Meltzer, addressing the same question on twitter, wrote the following:
It's what's known as business https://t.co/yJCp0aTWE6

— Dave Meltzer (@davemeltzerWON) February 1, 2017
Ryan Satin's take was as follows:
https://twitter.com/ryansatin/status/826825745448132608
A day after taking credit for not doing "speculative shit" on his site, Satin's Pro Wrestling Sheet has published a rare editorial by James McKenna speculating on potential replacements for Seth Rollins in a WrestleMania match with Triple H.
Names included on the list were Finn Balor, Samoa Joe, Batista, Bruan Strowman, Shane McMahon and Fandango.
PWInsider's Mike Johnson posted an Op-Ed column this afternoon calling on WWE to pick up the phone and bring back CM Punk to face Triple H at WrestleMania if Rollins cannot compete. This, of course, was the exact matchup CM Punk heavily criticized during his infamous confrontation with Vince McMahon and Paul Levesque prior to walking out of the company.
Obviously there are sure to be further developments and details regarding this injury throughout the day, and we'll be keeping an eye on them.