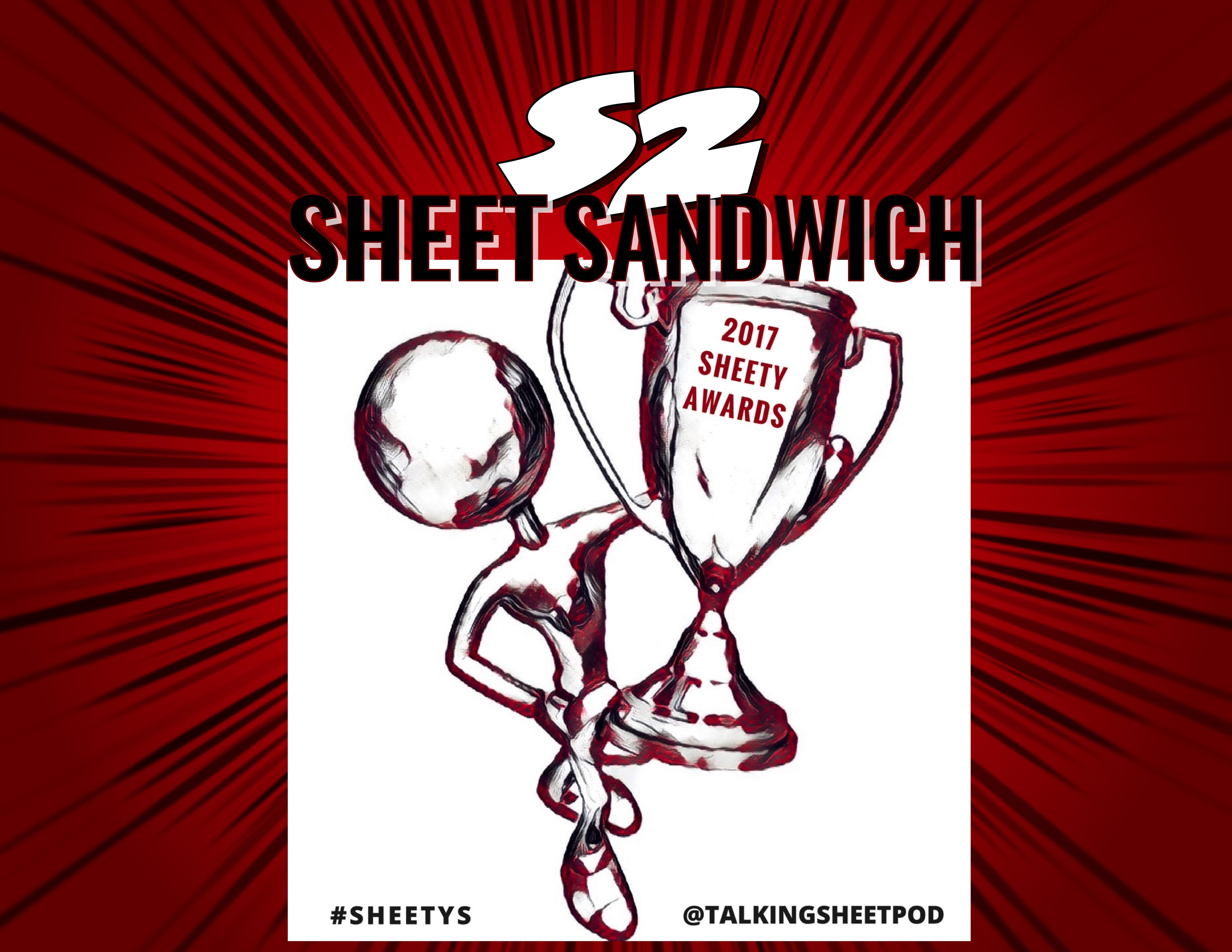 Please note: Official polling is now underway for the 2017 Sheety Awards. Click here to learn more and submit your votes!
We are pleased to announce the official nominees for the 2017 Sheety Awards. This is the third year Sheet Sandwich and the Talking Sheet Podcast have organized the awards to recognize the hard work and tremendous effort put forth by many talented writers, podcasters and pundits who cover professional wrestling throughout the year.
This year, we received hundreds of nominations — our most ever! The goal was to make the nomination process easier for people, and I'd say it worked out. Hopefully, this year will see a record number of folks voting in the awards, too. Thank you to everyone for your support and interest in the Sheetys.
Keep an eye out this weekend for official 2017 ballots for these awards as voting will officially be underway to determine who the winners are in each category.
Follow me on twitter @prowrestling for further details and alerts on when the ballots are available.
Congratulations on behalf of Sheet Sandwich and Talking Sheet to all of those who've been nominated for their excellent work and contributions in 2017.
SITE AWARDS
Best Review Site
Voices of Wrestling
PW Torch
PWPonderings
Fightful
411 Wrestling
Best Show Previews
Voices of Wrestling
PW Torch
Fightful
Lords of Pain
Cageside Seats
Best Breaking News
Pro Wrestling Sheet
F4Wonline
PWInsider
Twitter
Squared Circle Sirens
Best News Aggregator
Fightful
Twitter
Wrestling Inc.
Cageside Seats
411 Wrestling
Best Opinion/Commentary/Analysis
Voices of Wrestling
PW Torch
Wrestling Observer
Fightful
411 Wrestling
WRITER AWARDS
Best News Reporter
Dave Meltzer
Sean Ross Sapp
Ryan Satin
David Bixenspan
Mike Johnson
Best Columnist
Dave Meltzer
Bruce Mitchell
JR Goldberg
Brandon Howard
The Lady J
Best Reviewer
Larry Csonka
Brandon Stroud
Joe Lanza
Wade Keller
Dave Meltzer
PODCAST AWARDS
Best Host
Jack Encarnacao
John Pollock
Kris Zellner
Wade Keller
Conrad Thompson
Best Co-Host
JP Sarro
Wai Ting
Jeff Hawkins
Anna Bauert
Mike Sempervive
Best Podcast Network
MLW
Voices of Wrestling
Podcast One
PWO-PTBN
Live Audio Wrestling
Best Retro Podcast
Lapsed Fan
Between the Sheets
Something to Wrestle with Bruce Pritchard
Review a Wai
What Happened When
Best Show Review Podcast
Fightful Post Shows
Review A Raw / Review a Smackdown
PTBN Reaction Show
The Fix with Todd Martin
Facelock Feministas
Best News Podcast
Wrestling Observer Radio
VOW Flagship
Shake Them Ropes
Wade Keller Hotline
PWPonderings NewsCast
Best Interview Podcast
Art of Wrestling
Talk is Jericho
Steve Austin Show
Wrestling Omakase
6:05 SuperPodcast
MAJOR COVERAGE AWARDS
Writer of the Year
Dave Meltzer
David Bixenspan
Bruce Mitchell
Justin Barasso
Brandon Howard
Article of the Year
(nominations TBD)
Story of the Year
Death of Bobby Heenan
Ric Flair Health Scare
FloSlam Implosion / WWN Feud
Paige Drama Saga
Mauro Bullied
Site of the Year
Fightful
Voices of Wrestling
Pro Wrestling Sheet
F4Wonline
PWTorch
PWInsider
Podcast of the Year
Lapsed Fan
Wrestling Observer Radio
Something to Wrestle with Bruce Pritchard
Wade Keller Wrestling Show
VOW Flagship
Between the Sheets