Wanted to thank everyone who sent in feedback, positive or negative, about Talking Sheet—my new podcast with Hugh Little looking at the various wrestling insider newsletters. I've already adjusted the settings on my audio, so it would sound as muddy next time. I'm also thrilled at some of the plans we having coming up, including a very exciting segment we'll have on the next show that I think a lot of people are going to love. You can listen or subscribe to the show here.
We'll have the second part of our new column Deep Insider up this weekend, where I continue my sojourn into the unsavory, questionable realm of Elite Membership at PWInsider.com.
We'll also have the next in our series reviewing some of the biggest wrestling news sites on the internet, using the Alexa Top 10 as our starting point.
Wednesday News Update
** In an unexpected reporting coup today, F4Wonline.com reported that PWINsider had reported that former UFC fighter Chael Sonnen was expected to be announced as an announcer at today's Global Force Wrestling press conference in Las Vegas.
"PW Insider has reported that Chael Sonnen would be introduced as a television announcer for Global Force Wrestling at their press conference later today in Las Vegas."
** Earlier in the day PW Insider had run the headline: "Very Interesting Name Joining Global Force Wrestling" in which it reported the news that they expected GFW president Jeff Jarrett to announce it.
** When the press conference actually happened, F4Wonline ran a follow up story reporting that GFW has, indeed, announced as a "color commentator" for the group along with some of the names Jarrett announced as being part of the roster—Davey Boy Smith, Jr. P.J. Black (Justin Gabriel, Doc Gallows and Karl Anderson.
** They then updated that story again with additional names like Lance Archer, Chris Masters, Seiya Sanada and more.
** PWInsider had full notes on GFW, with names as well.
** They also ran the full GFW press release sent out after the event.
** PW Torch's James Caldwell ran a standard story covering the event, with no mention of what PW Insider had reported.
** Here's how Dave Meltzer at F4Wonline characterized the announcements by Global Force wrestling today:
"Other than Moose, nothing too shocking, depending on what you think of the Sonnen signing. The release promises more announcements to come…"
** Guess if you can't be first with something, the best thing to do is be dismissive and downplay its importance.
** PW Torch was also the first of the Big Three to confirm that Chris Jericho's announcement on his podcast today was his in-ring return to WWE this summer for a house show tour.
** Mike Johnson at PWInsider ran a story headlined "Ric Flair's Podcast Debuts Today, Official Details" in which he posted the CBS Play.it press release about the show.
** WrestleZone ran an article about the GFW event and announcements that was clearly ripped off from F4Wonline.com after their initial shot at posting the story, because it only listed the original 4 names F4W reported.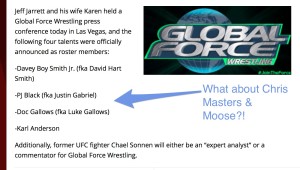 ** They also then followed up with a re-posting of the GFW press release.
** Vince Russo has reappeared on the Chair Shot Reality site with a new column looking at why Sami Zayn, in his opinion does not equal ratings.
** The Chair Shot Reality site now features BLOGS! In addition to Russo's column, they also have Blake Mitchamore taking a look at Hulk Hogan having One More Match, and a GFW piece by Shane Shoemaker.
** PW Torch has updated their Podcast Log (this thing where they let you know the guest and topics for all the podcasts hosted by wrestling stars. This week, Ross has Samoa Joe, Austin has Dixie Carter, and Taz has Mick Foley.
** WrestlingInc. has again jumped the rescue with a nice recap of Jim Ross-related content, this time looking at his show with guest Samoa Joe.  In it, apparently Joe told Ross that CM Punk wants another match with him.
"You know, (CM Punk) Punk. For everything it is we've still I know he very much wants to have one last one, one last go. I'm sure he'd love for it to be 100 minutes or 90 minutes but we'll see how that goes."
** F4Wonline has a long form article on their site today by Kyle Johnson looking at the career of Wade Barrett in WWE up to now, and whether "Kingship" can stop its descent.
** One of the best, most consistently good regular features of the F4Wonline.com homepage (which is ordinarily an unkempt nightmare) is This Day in Pro Wrestling History by Brian Hoops.
** Great opening segment on the Bryan & Vinny w/ Craig show last night on F4Wonline. The guys shared their memories of recently deceased wrestler Richie Magnett, who they all worked with. Alvarez even mentioned the potential to have former podcast regular guest Buddy Wayne back on the show!
** Today's News vs Plugs at F4Wonline.com – News: 940 words. Plugs: 3331 — but that is being extremely generous, as 152 words in the news update were actually Dave Meltzer repeating news from earlier posts on the Global Force announcement, or reporting on the fact they released a press release without really getting into the details of the release.