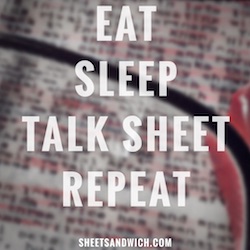 WrestlingObserver.com/F4Wonline.com contributor David Bixenspan isn't in the business of making friends… he's attracting followers; by any means necessary.
Earlier tonight during a UFC event, Bixenspan took to twitter on not one, but TWO accounts in order to live tween his observations of the fights. The SAME observations. Verbatim. From both his @davidbix account, and the official account of F4Wonline.com, @WONF4W.
Dozens and dozens of duplicate tweets began barraging the feeds of anyone stupid enough to follow both twitter IDs. When asked to stop, or to back off, Bixenspan refused, stating,
"I have a bunch of MMA followers who don't follow the site's account and I'm not the only one who does it."
And so it continued, for hours.
It is unknown how many subscribers unfollowed one or both of the feeds in order to stop the spamming.
This latest scrap with Observer/F4W fans and Bixenspan comes only months after rising backlash that site part-owner Bryan Alvarez had ceded his duties on the daily news updates on the site to "Bix" (as he is known in internet wrestling journey parlance), as well as handing over the reins of writing Alvarez's newsletter Figure 4 Weekly to Bixenspan as well.
The Bixenspan Backlash has increased to such a degree that according to one recent survey, 40% of respondents felt he was the next site contributor who would suddenly vanish under unusual or controversial circumstances.
Here's hoping!