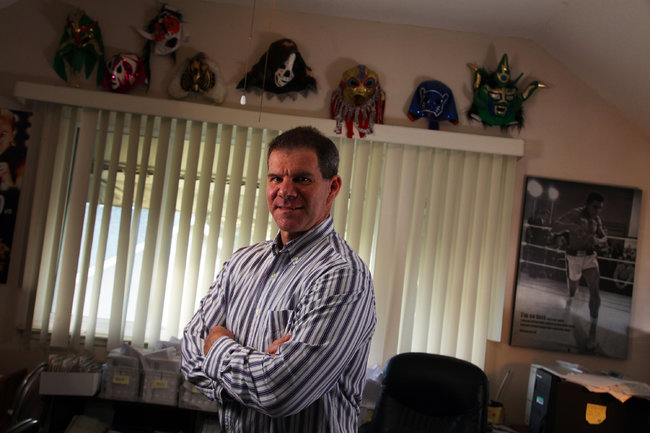 Bizarre moment in news coverage from Dave Meltzer today at F4Wonline.com as the Wrestling Observer editor made an apparent crack directed toward ESPN & HBO sports personality Michelle Beadle, a self-professed former WWE fan who revoked her support of the company Saturday night following Paul "Triple H" Levesque's lavishing praise on champion boxer Floyd Mayweather, who's long history of violence against females is nearly as well-known and storied as his 48-0 in-ring career.
Both prior to, and following Mayweather's 12-round decision victory against Manny Pacquiao Saturday night in Las Vegas, WWE's Executive VP Talent, Live Events & Creative sent two tweets in support of Mayweather:
"FloydMayweather is the biggest box office attraction in the world. Tonight, he'll make history again"
And, following the victory,"FloydMayweather WOW….. Just WOW. Masterful !!!!! … Congratulations"
Beadle, who earlier in the night was one of three sports journalists denied access to the fight allegedly based on a history of reporting on Mayweather's beating up, and abuse of, women, reacted badly to Triple H's tweet.
"I've loved WWE for a long time, but HHH and his love for a serial abuser is too much. I'm turning in my fan card. #WasFunWhilteItLasted."
Meltzer, in his Sunday news report, quoted Beadle's tweet, and followed it up immediately with the following editorial comment:
"The serial abuser in question is Floyd Mayweather, given there are a lot of serial abusing celebrities out there that people are fans of."
While Meltzer was not immediately available for comment to Sheet Sandwich, the comment raises an interesting question as to what was meant or gained by writing it.
Shortly after Beadle's tweet, wrestling fans were quick to leap to attack, seemingly suggesting hypocrisy in Beadle calling our Triple H, while also being a high profile fan of Steve Austin, who himself had a run-in with the law following a 2002 domestic abuse arrest stemming from a complaint made by former wife Debra Marshall who claimed Austin had beaten her in their San Antonio residence.
But claims of hypocrisy against Beadle would seem unfounded, and unfair.
Following Beadle's lighthearted , friendly conversant interview with Mayweather at last year's ESPN ESPY awards, during which she told the boxer, "I like that you live you live," Beadle would publicly apologize for the interview, claiming to have not known the depths or extent to which Mayweather's past of abuse crept.
Since then, Beadle would join with other prominent ESPN and sports reporters to #BoycottMayweather.
As to Meltzer's comments, which seemed more directed at Beadle in snark than in covering the angle from WWE's perspective, they stood in stark contrast to the more detailed perspective offered by Wade Keller at PWTorch.com.
Keller offered an 11 minute monologue at the top of Sunday evening's Hotline audio report breaking down not the suggestive hypocrisy of Beadle, but that of WWE, who's anti-bullying campaign and social responsibility philanthropy would seem to run opposite that lifestyle and violent past of Mayweather.
Dave Meltzer did not immediately respond for a request to comment on, or clarify, his remarks in his Sunday update. If we responds, the Sandwich will update this piece with his statement.