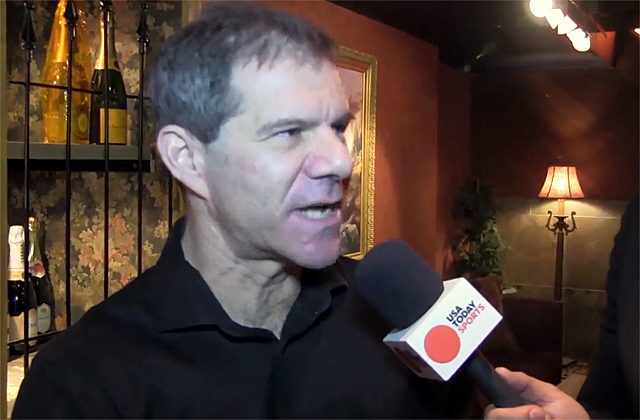 In an actual report in the newest edition of the Wrestling Observer Newsletter just released Wednesday, Dave Meltzer wrote the following regarding news and rumors coming out of TNA Impact wrestling:
At press time, all sorts of things were happening but hadn't happened yet, but it was very possible a story could break imminently.
And break it did… just, not on the Observer.
News soon broke on the internet that Jeff Jarrett was returning to TNA Impact, and rumors were swirling (attributed to MLW's Court Bauer by Prowrestling.net's Jason Powell) that Jarrett was actually trying to buy back majority control of TNA from Dixie Carter.
Jim Ross commented on rumors regarding TNA on his Ross Report blog at JRsBBQ.com, as well, which Powell also reported on at .Net.
TNA then released a video with Jarrett talking about his return being an emotional decision—which Powell again covered.
F4Wonline finally reported the news here regarding the Jarrett return.
This is clearly not the Dave Meltzer of old where, just hours before the news would break, Meltzer not only didn't have the story, but didn't even comment as to the rumors, or the names it involved… this, despite Jeff Jarrett spending much of the past day or so on Twitter hinting that things were afoot:
Things are really coming together for this "deal"… Almost in legal's hands… The deal is in legal's hands… Pretty, no, very excited about this… Here we go…Not the 1st time… Certainly will not be the last– Legalities can/will kill a deal quicker than anything… Well, stranger things have happened… Not a "done deal", but huge turnaround this morning… Definitely headed in the right direction…
The vague nature of Meltzer's commentary stands in stark contrast to his reports of TNA just over a month ago when news broke first of Destination America canceling the show as of September, and then word breaking that Ring of Honor would be joining the network in tandem with TNA as well.
For Meltzer's part in this story, the wording seems rushed, poorly thought through and actually, upon even brief scrutiny, lacking actual sense.
Take, for example, this line—which seeming directly contradicts itself, or at least is playing some temporal game with tense structure:
all sorts of things were happening but hadn't happened yet
Members of Meltzer's F4Wonline message board struggled to understand the substance behind the non-news news.
One poster described Meltzer's report as, "vaguer than a talk show psychic."
Another disappointedly wrote: "I've been a subscriber for closing on two decades and this is one of the biggest letdowns I've had from Dave. I was shocked to see that this was all we got here."
Hopefully, Meltzer can bounce back with some actual, concrete reporting of this new development later on tonight on Wrestling Observer Radio (the podcast he does with Bryan Alvarez) now that it seems clear that Jarrett is back with TNA.