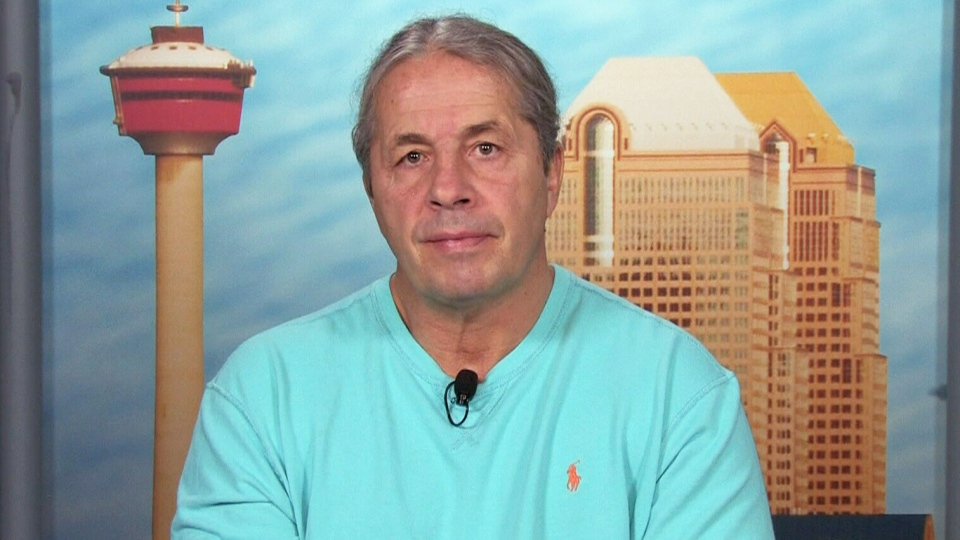 WWE Hall of Famer Bret Hart's Recent Interview Has Wrestlings Top Journalists Reacting in Different Ways
Just how big is this Bret Hart story, anyway?
Last Friday, Bret Hart was interviewed by SI.com's Just Barrasso for Extra Mustard, the Sports Illustrated micro blog covering the nexus of "where culture meets sports" — so, basically, a hybrid pop culture blog, with a heavy leaning toward sports, and even sports entertainment.
For days now, wrestling journalists have weighed in on the topics covered in the Bret Hard piece, which ranged from the Hall of Famer's thoughts of Daniel Bryan, to the recent severe neck injury suffered by WWE wrestler, and Hart family member by marriage, Tyson Kidd at the hands of Samoa Joe.
The most shocking comments made during the interview initially seemed to be about Daniel Bryan, who has been out of action for most of the past year and a half following injuries to his neck, and a series of concussions as well.
"Daniel Bryan is finished," said Hart. "He'll never wrestle again. I don't think he knows it yet. I feel terrible about Daniel Bryan. For all intents and purposes, he had the exact same thing happen to him that happened to me after Bill Goldberg kicked me in the head…"
Most wrestling blogs instantly ran with this as the headline, but Wade Keller in his VIP audio show cautioned that this was more speculation on behalf of Hart, and not any sort of inside knowledge into Danial Bryan's condition, or future with the company.
In fact, he sited the very next quote from Hart in the article to underscore how it was mainly conjecture by Hart.
"One day, you learn it's over. Doctors tell you that you can't wrestle and you'll never wrestle again. I lost millions of dollars because of that. I pray that it's not the same for Daniel Bryan."
For Keller, the most newsworthy part of the story centered on Hart's opinions surrounding what happened to Tyson Kidd at the hands of Samoa Joe.
"…It seems to me there was a lot of poor planning involved in that injury. I don't know whose fault it is or why an injury like that happened, but someone is accountable. The WWE has done a lot in the last few years to improve conditions for wrestlers. They have doctors there and they give wrestlers adequate time to prepare, but in looking at what happened with Tyson Kidd, clearly there is still a lot of room for improvement."
Tyson Kidd announced on twitter earlier this week that he would be undergoing surgery, and news swiftly reached the internet that it would be a similar spinal fusion procedure that former WWE Superstars Steve Austin and Edge had undergone. Kidd is expected to be out of action for over a year, with much speculation and questions now about how much longer he will be in action following the surgery.
PW Torch Editor Keller, and F4Wonline's Bryan Alvarez both highlighted this as one of the biggest angles from the Hart interview, with Keller talking at length about the culpability of WWE at play in Kidd's injury, seemingly reiterating what Hart had to say, and calling into question WWE's track record with handling talent injuries.
It is far from the first time we've heard stories about a lack of care shown talent who sustain injury while in action with WWE. Late last year, former WWE champion CM Punk famously went on his friend Colt Cobana's podcast to discuss his experiences with WWE medical, including being told he was "cleared" for a match without hearing it first hand, and having a full blown MRSA staph infection undiagnosed for months by WWE doctors.
Punk is currently embroiled in a lawsuit with the WWE doctor in question for defamation.
Alvarez similarly echoed Keller's thoughts on the situation, and even went so far as to predict that Bret Hart would not be a welcome face in WWE for his comments right now, saying for Hall of Famer would likely not be "invited back any time soon."
But when Alvarez discussed the matter with Wrestling Observer Newsletter editor Dave Meltzer, the wrestling journalist seemingly blew off the Hart story as it relates to Kidd, and focused more on the comments Hart made about Daniel Bryan.
Meltzer dismissed Hart's assertion that not enough time was given to Kidd and Samoa Joe prior to the match, saying that wrestlers had been wrestling for years on short notice to fill time on cards, and that this should have been no issue for performers of Joe and Kidd's stature. He also pointed out that, despite Hart's allegation that the "Muscle Buster" finisher is dangerous and reckless, that Joe had been doing the move for many, many, many years and that it boils down to one of those freak things that happens.
But on the subject of Daniel Bryan's injury, Meltzer seemed to seize the opportunity to glom onto the notion that Hart's assertions shone a light on what the mysterious issues are with Bryan.
For months now, WWE has been very secretive about the nature of Bryan's injury. Meltzer, for his part, has continued to reiterate that originally he was told that Bryan was taken off the European tour this spring due to concussion-like symptoms.
Despite the video intro by Extra Mustard's Jennifer X. Williams leading into the written interview, wherein she discusses Bryan's situation as a "neck injury," Meltzer seemed to be running with the idea that it's a concussion based on Hart's opinions—the same ones Keller had cautioned as purely conjecture.
It will be interesting to learn what more, if anything, Meltzer has to write about this story in the upcoming issue of the Observer.
He seemed to be holding his cards close to the vest in discussing the Hart story with Alvarez on Monday night's podcast, which usually indicates he's got more to say on the matter in the form of a written piece in the newsletter.
Time will tell.