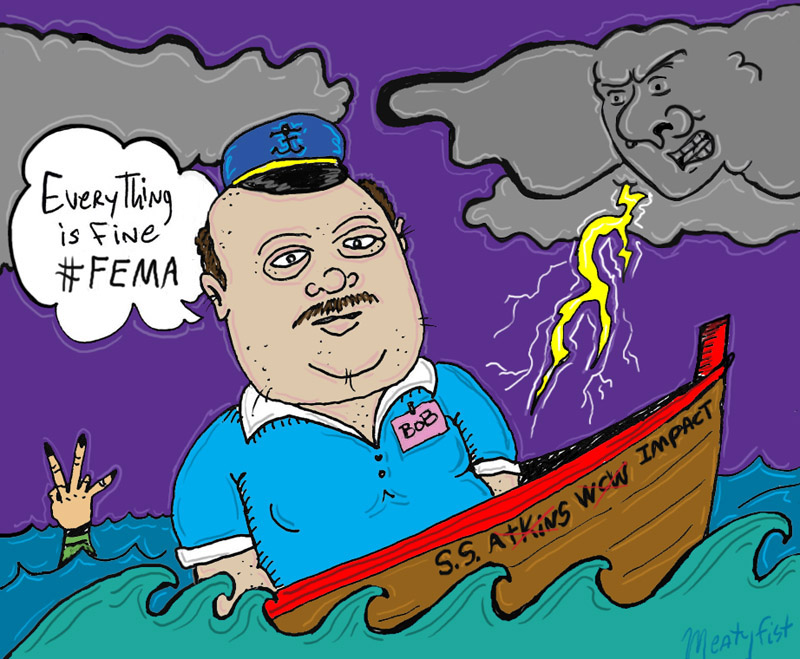 Bob Ryder has been called a lot of things over the years.
Hypocrite. Shill. Talentless Hack.
Now, add "sleaze ball" to the list.
According to a comment made over the weekend on the F4W BOARD~!, Wrestling Observer editor Dave Meltzer, Ryder has riled more than a few feathers with his recent antics and tantrums on Twitter and TNA Mecca, a site for fans of Impact Wrestling to commiserate.
"I know a few people in TNA who said Bob was a real sleazeball with what he wrote about Lethal & Strong," Meltzer wrote regarding recent comments made by Ryder intimating that TNA would try to poach the talents from rival promotion Ring of Honor.
"We've had talks at various times to see if ROH would want to do business with us," Ryder told fans during a special chat on TNA Mecca. "They weren't interested at the time. Maybe we should get aggressive and go after some of their unsigned talent? That would be interesting." Ryder continued.
Ryder then went on to note that both Roderick Strong and Jay Lethal had spent time at TNA backstage in recent months, intimating that they were ripe for the poaching.
This capped a weeklong rampage by Ryder which was a return to the pompous, vapidly arrogant Ryder during the twilight of WCW, when he and WCW Live co-host Jeremy Borash had their heads buried in the sand over the WCW sinking, and buried any of their callers who dared to suggest this was the case.
Ryder spent the better part of a day a couple weekends ago obsessing over calling Dave Meltzer our over a report that appeared on F4Wonline noting that two Knockouts were leaving the fold.
Never mind that a half-dozen other wrestlers were already abandoning ship—Ryder had to prove Meltzer wrong, and call into question his credibility.
He followed that up last week by having a tantrum over Pro Wrestling Illustrated's decision to strip the TNA championship of its world title status.
Magazine writer Al Castle appeared on the Busted Open radio show and said, among other things, that TNA didn't deserve to thrive if they didn't get their act together, and that success isn't an entitlement.
"TNA, I very much believe, ultimately made their bed. So if they're gone, they're gone. I'm sad to see some of these guys lose work, but this is not a company that deserves to thrive."
Ryder mis-interpreted the quote, flipped his lid, and tweeting with regard to Castle, "Ridiculous that a guy with 282 followers who writes for a print mag with about that many readers got airtime to blast us."
He followed that up by letting everyone know he'd taken the issue up with Castle's boss.
"Exchanged email with Stu Saks asking him to repudiate comments made by senior writer…that TNA didn't deserve to survive," Ryder wrote.
Castle would then release a statement on TwitLonger, capitulating somewhat.
"Although the discussion on Busted Open naturally flowed into TNA's current struggles and questions about its future, those issues were largely irrelevant to the topic of PWI's world title status policy. I regret merging the two."
Ryder, in the way that only someone like he could, then tweeted a thank you to Castle, before wishing him the best of luck at the magazine.
The TNA employee's behavior has gotten so out of control, that it prompted one caller to Bryan Alvarez's Wrestling Observer Live radio show Sunday night to ask what his problem is.
Alvarez, to his credit, stared clear of any name-calling, but did caution Ryder.
"Bob Ryder is an employee…," Alvarez said. "And sometimes it's better to not say anything than to say something, and look stupid for saying it at a future time. And that is the extent of my comments on Bob Ryder."
This is far from the first time that Ryder played shill for a company in jeopardy for mismanagement and ineptitude, losing his credibility.
Just about 14 years ago, while Ryder was the editor for 1Wrestling.com, shortly after receiving his termination from WCW, he published a mea culpa admitting he had been compromised, and regretted it. He even apologized to bitter rivals Wade Keller and Dave Meltzer.
"I regret saying a lot of the things I said, particularly comments made about some of the other people who covered wrestling without the same "blinders" that I was wearing. To people like Dave Meltzer, Wade Keller, and Jason Powell….I'm sorry for some of the things I have said about you in the past. While we will never agree on some issues, I was wrong to question your right to say whatever you wanted to say and to be critical when it was clearly warranted."
But old habits die hard, and here we are again; with TNA in the twilight of its existence by all accounts, and Ryder, clinging desperately, this time, to the side of the ship denying to anyone within earshot that everything is fine, and no one knows what they're talking about.