** Biggest story doing the rounds at F4Wonline this week is the ongoing buffering situation Bryan Alvarez has been experiencing with the classic content on the WWE Network, which has reached such an inconvenient level for him that he has threatened to boycott the on-demand library altogether, and cease his Nitro reviews on the Tuesday Bryan & Vinny w/ Craig podcast.
** Listeners of the show inundated Alvarez's twitter with messaging commiserating with the podcast host over the sore subject
** On the Thursday Wrestling Observer Live, Alvarez noted that WWE was aware of the circumstances surrounding the buffering issue, but that it is not expected to cause any issues with the Live content this weekend
** Rough night last night for Dave Meltzer, who was most likely in a rush to get this week's Wrestling Observer Newsletter out, do his podcast with Alvarez, and then make a 6:00am Pacific flight to New York for the WWE/2K Games panel held Thursday night.
** Meltzer posted a story wherein he reported that "Nakanishi" vs. Okada would air on AXS TV Thursday. Really what he meant was that the show would feature Nakamura vs Okada from the G1 finals last year in the Seibu Dome.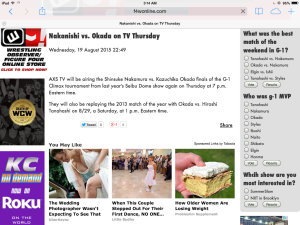 ** In the Observer he also had this gem which, if it ever made it to audio, would be a classic candidate for a Clear As Mud segment:
The game has changed, but the matches this past weekend felt every bit like a modern state-of-the-art matches, with cross-ups, great selling, which is the hallmark of them matches, the athletic moves, and the storytelling.
** Lead story in this week's Observer Newsletter is the weekend preview of SummerSlam and NXT Takeover, plus full coverage of the now finished G1 Climax and what the results mean for NJPW in the near future.
** Hugh and I will have full coverage of the latest Observer this weekend on Talking Sheet
** Josh Nason has a report that ROH and New Japan are expected to make a joint announcement on Friday
** It's characterized as "special announcement impacting their working relationship" and the news will stream live on ROH's website just after 7 eastern Friday
** I noted on Wednesday evening that I might need to start taking up a typo tally for the daily update, as some of the most recent updates by David Bixenspan have been riddled with them.
** Thursday's daily update was penned by "Wrestling Observer Staff"
** Tuesday's ratings for Tough Enough and Total Divas is here
Total Divas 1,031,000 viewers (down 12 percent from last week)
Tough Enough 998,000 viewers(down 3 percent from last week)