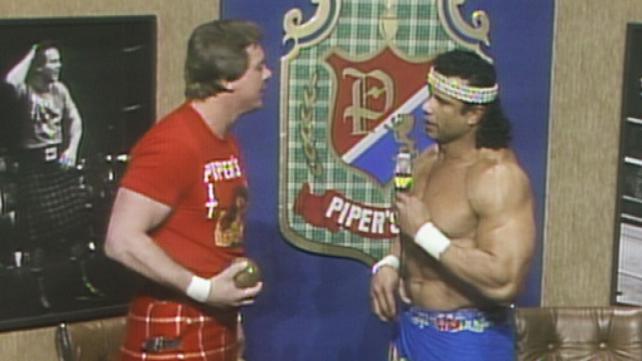 Another WWE Hall of Famer is dead.
Just a month and a half after the death of the American Dream Dusty Rhodes, the wrestling world bid adieu to another legendary icon when news broke Friday that Rowdy Roddy Piper had died from cardiac arrest in his sleep the night before. He was 61.
TMZ broke the news late Friday afternoon, with a report from Piper's rep:
"I am devastated at this news. Rod was a good friend as well as a client and one of the most generous, sincere and authentic people I have ever known. This is a true loss to us all."
Inducted into the WWE Hall of Fame in 2006, Piper was one of the most recognizable wrestling starts of the 80s.
News of Piper's death traveled swiftly after breaking online, with wrestling journalist Dave Meltzer quickly reporting the news on F4Wonline.
Piper was one of the key figures in the growth of WWF. In particular, he helped power the success of the first WrestleMania: the most important show in company history beacuse it was such a make-or-break event. He was considered one of the greatest promos in pro wrestling history, competed in all of the major organizations, and while he never won a World title, he held the WWF Intercontinental title and the WWF Tag Team titles (w/Ric Flair).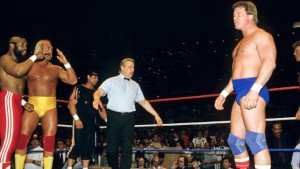 Meltzer and co-host Bryan Alvarez also did a breaking news audio on Piper's death and, while never actually reporting mentioned that the wrestling star died of cardiac arrest within the first 20 seconds of their podcast, then told stories of Piper's craziness, and star power over the years.
Meltzer talked at length about Piper's instrumental contribution to the success of the first WrestleMania, and therefore solidifying the popularity of professional wrestling during the boom period of the 80s.
Alvarez told a story of how Piper had once confronted him in a darkened bathroom, with a lighter under his own chin as he warned Alvarez to tell Dave Meltzer that he was going to burn his house down.
Meltzer told tales of how, over the years, each time he'd speak with, or see Piper, the wrestling legend would act as though they'd never spoken or met before.
Jason Agnew of the Fight Network's Live Audio Wrestling had Meltzer on for a little over 5 minutes talking briefly about Piper.
Wade Keller posted a VIP Audio Update and discussed Piper's death at length as well.
According to Keller, Bruce Mitchell, Sr. Columnist at the Torch reported that everyone at the Mid-Atlantic Fan Fest going on this weekend in Charlotte, North Carolina was taking the news of Piper's passing hard.
Keller suggested that people who really want to pay tribute to Piper by watching old clips should focus on WrestleMania I and the build-up, early Piper's Pit segments from the mid-80s, and anything before that when Piper was in Mid-Atlantic, and Georgia.
Most of the remainder of Keller's report was mainly Keller reading Twitter reactions from wrestling stars (more on this below)
He also talked at length about this tweet from Sean Waltman.
Ppl are saying Roddy is one of the best heels ever. Who's supposed to have been better?

— Sean Waltman (@TheRealXPac) July 31, 2015
Keller mentioned not wanting to talk in too much detail on Piper over all, as he promised a more in-depth audio report on the life and times of Piper with Bruce Mitchell later this weekend.
The WWE App had a breaking news alert on the Hall of Famer's death, too.
WWE would also release a statement on Piper's passing:
"WWE is deeply saddened that Roderick Toombs, aka "Rowdy" Roddy Piper – WWE Hall of Famer and Intercontinental Champion – passed away today at the age of 61. WWE extends its sincerest condolences to Toombs' family, friends and fans."
And WWE Chairman and CEO Vince McMahon sent out the following:
"Roddy Piper was one of the most entertaining, controversial and bombastic performers ever in WWE, beloved by millions of fans around the world. I extend my deepest condolences to his family."
James Caldwell had the PW Torch write-up on the news of Piper's passing as well, including quotes from other legendary wrestlers reacting to the news.
Steve Austin, who recently had a back-and-forth Piper, tweeted: "I am shocked and saddened to hear of Roddy Piper's passing. He was one of a kind and one of the all time greats. #prowrestling."
Caldwell also covers statements made by Hulk Hogan, and Ric Flair on Piper's death.
Jason Powell of prowrestling.net reported the news as well, and offered his POV.
I'm stunned. Piper was a true WWE legend and one of the major players during the early WrestleMania years. It sounds cliche, but the Piper's Pit talk show segment truly falls into the "often imitated and never duplicated" category. My condolences to his family, friends, and many fans.
Mike Johnson of PWInsider had a brief report on Piper's passing, as well as a very heartfelt personal reaction to losing the star.
"I cannot even begin to state personally how sad I am. My very first memory of pro wrestling, which made me an immediate fan, was Roddy confronting Mr. T on a "movie set" when I stayed up late one night trying to watch Saturday Night Live and instead woke up to find Saturday Night's Main Event. Roddy was one of my all time favorites…"
Dave Scherer, also of PWInsider reacted to the news in "An Appreciation" of the man who he said was directly responsible for the PWInsider site. (Even though he said the same thing about Dusty Rhodes when he died).
When Dusty passed, I eventually, through catharsis on the air, came to the realization that if he had never come into my life, I wouldn't be doing what I am today. Well, if Roddy Piper didn't come along first, I would have never gotten to see the great work of Dusty Rhodes. Roddy is the one who brought me into this crazy business. He showed me how it can be at its very best.
Jeff Jarrett, on twitter, reacted to the news
Life is short… Very short… Just spoke with Roddy yesterday… #RIPHotRod

— Jeff Jarrett (@RealJeffJarrett) August 1, 2015
Piper's son, Colt also took to twitter with a statement
My father @R_Roddy_Piper was a great man and my best friend I will miss him forever and will alway try to be the man he raised me to be

— Colt Toombs (@ColtToombs) July 31, 2015
PWMania.com had a series of posts collecting other wrestling superstars and personalities reacting, on Twitter, to the sad news that Piper had died:
Justin LaBar from the TribLive.com site of the Pittsburgh Tribune has a piece commemorating the WWE Hall of Famer.
Piper was just crazy enough to be an attraction but believable enough that you knew he wasn't to be trifled with.

Piper didn't need anyone to speak for him, nor did he need to intimidate with a silent demeanor. He could recite a nursery rhyme and give you chills while doing it. He had that kind of talent with his words, inflection and facial expressions.

Before there was Stone Cold Steve Austin, The Rock or CM Punk, there was "Rowdy" Roddy Piper.
Sean Ross Sapp of WrestlingInc reported on Cyndi Lauper's reaction to her formal rival's passing
Sports Illustrated's FanSided site had a look at the Top 10 Rowdy Roddy Piper Moments here.
Brandon Stroud over at With Spandex has a look at Piper's greatest non-wrestling moments and influence in pop-culture here.
Piper's memorable wrestling moments could fill their own hall of fame, whether it's boxing Mr. T, locking himself in Alcatraz to destroy Hulk Hogan or smashing 'Superfly' Jimmy Snuka in the head with a coconut, but he had just as strong a connection with a non-wrestling audience.
Mainstream reports were also written on Piper's death, too, many of them, like this NBC news update, reported the same talking points and statements from WWE.
ABC News reported via the Associated Press:
Piper, born Roderick Toombs in Saskatoon, Saskatchewan, is the second WWE Hall of Famer to die this summer, following the June death of Dusty Rhodes. Piper's death also comes days after Hulk Hogan, his biggest rival for decades, was fired by the WWE. Hogan had used racial slurs in a conversation captured on a sex tape.
Rowdy Roddy Piper, born Roderick George Toombs:
1954-2015