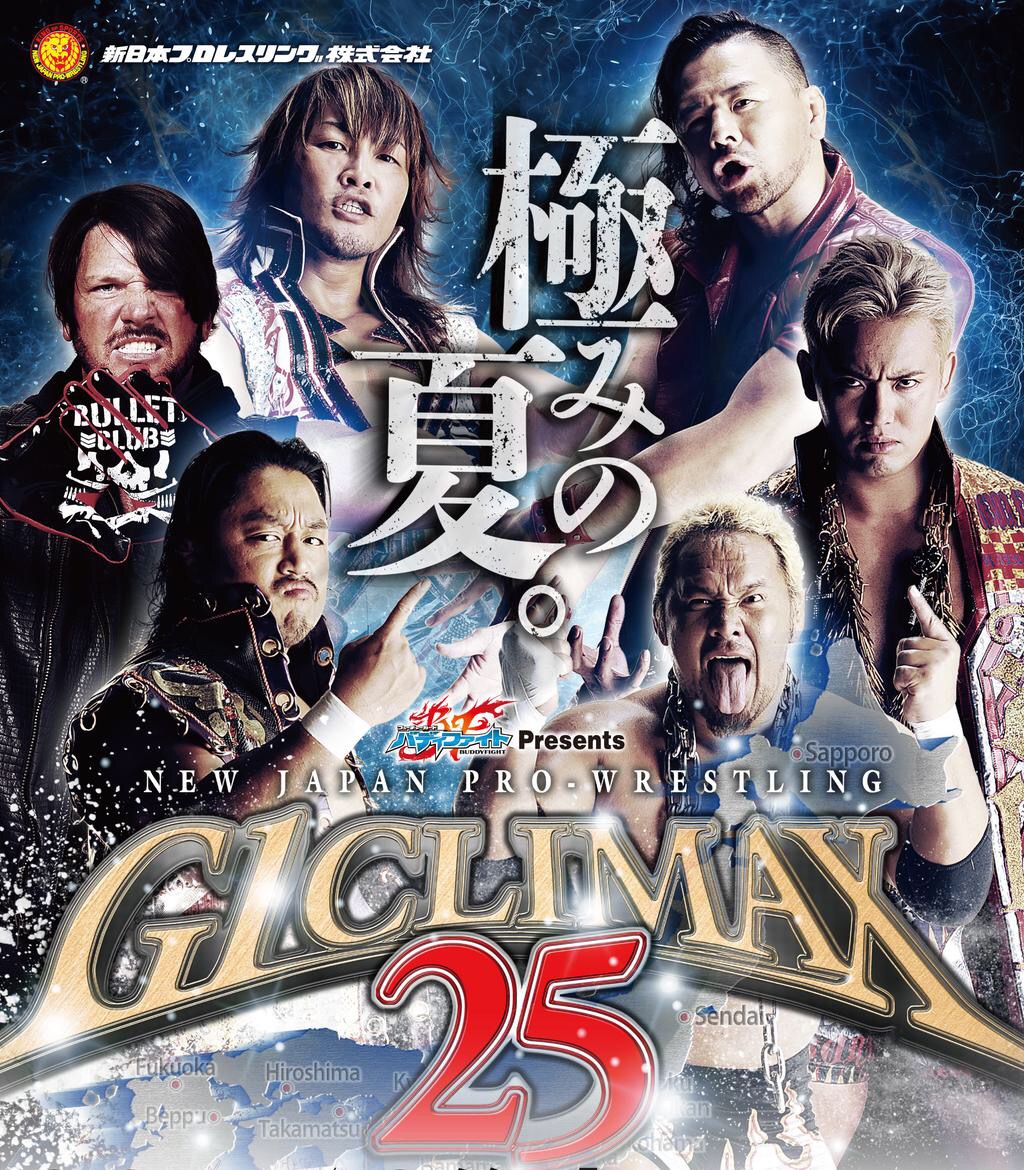 This is my journey watching the NJPW G1 Climax for the first time.
THE HYPE
When I finally signed up to NJPW World online the Dominion show had just happened and was getting high praise on all the wrestling news sites, newsletters and podcasts, not to mention the talk on Twitter. I had to watch and was f'n blown away. It was so different from the WWE; it looked and felt good. Add in the fact I had to learn who all these wrestlers were and I was hooked. Hello OCD! With the G1 starting in a few days I listened and read everything I could about the G1 climax I was in full geek out mode.
THE START
The first day of the G1 was overwhelming only because it was on so early in the morning and I had to work all day and see everyone talking about it and before I could watch later that night. When I finally got out of work I drove 1,000mph home, got myself set up with beer, snacks and my Voices of Wrestling Pickem. The smile on my face at this time is ear to ear. I got comfy on the couch and clicked play to something that just felt big.
THE ADJUSTMENT
I quickly found out watching every match including the undercards was going to be challenging. I was going into work early to get out a little early so could I get home to watch more. I'd get up at 4am to get some hours in on the weekends and sleep later. I even had to negotiate with my wife some nights to order delivery so I could keep watching. I'd have it on my computer with the headphones on so she never was bothered. After a few days I had to abandon the undercard and just see what happened in the reviews. It was a lot of disruption, but I was ok with it cuz I was totally dedicated.
THE WRESTLERS
Coming in I already loved Shinsuke, but right away I fell in love with so many others wrestlers. Naito was the first, and is in my Top 5 fav wrestlers right now. What a fucking jerk this guy is, right? It was cool to learn about all these guys and their styles and stories. Nakamura, Naito, Ibushi, Shibata, Okada, Styles & Goto are elite wrestlers who put on at least 4 star matches when out there almost every time. Guys like Big Mike, Toro Yanu, Tanzan, Honma & Nagata I didn't think I'd like and by the end loved. I will forever love all these guys in this G1 for the rest of my life, well except Gallows, Anderson and Kojima. What? I just don't dig Kojima.
MIDPOINT
By the midpoint I was surprised I was keeping up with everyone. It's crazy to think because these are all 3 plus hour shows and I bitch about RAW being too long. It's tells you how much fun this event is and the quality of wrestling going on. Most wrestling news sites had preview shows for the second half of the tournament, It was a good point to relax then refocus.
THE BUILDUP
After the mid point you really get a sense of character development that even I can pick up. These guys evolve their tactics and ring moves as the tournament continues. At this point both A Block and B Block have lots of wrestlers bunched up at the top elevating each match that much more.
EXCITEMENT & EMOTIONS
By this time I am fully invested emotionally each match seems to be getting more intense and the crowds are really starting to get behind the action. Some guys are hurt, some guys looked gassed. The toll of the tournament is showing its effect on the wrestlers as well as myself.
LATE ROUND DRAMA
Coming down the home stretch there were lots of upsets and killer matches. The biggest story was Honma finally winning a match. I for one was super excited about. He said a few words to the crowd. Honma has a rough voice and saying that doesn't do it justice. These upsets and late round drama set the stage for 2 deciding matches for the winner of A & B Block. Tanahashi vs Style and Nakamura vs Okada.
NIGHT 17 & 18
Whenever I get to the end of something I slow down to really savor what I'm enjoying. I probably have some sort of issues with letting go. I was also nervously anticipating these Block championship matches. In the VoW Pickem I had A.J. Styles vs Nakamura in the finally and that outcome could happen. I was feeling really good about my dudes. Night 17 match between Styles and Tanahashi was amazing. If someone asked me I would have said it was a 5 star match. It was an epic back and forth. Night 18 Okada vs Nakamura was a good match but It felt weird cause I think of these guys as friends. They still put on a great performance.
THE FINALE
Please do yourself a favor and watch this. This was epic to say the least. I love Shinsuke so this match was fucking beautiful. He really is a thing of beauty. Tanahashi has won me over as well. This guy is a machine in the ring, the energy he puts out is amazing. The crowd was insane, and I thought they cheered louder for Shinsuke which made me happy. I really thought this was over at one point only to be fooled by the kick out. The match was nuts and my emotions were running high I knew I only had a few more minutes before the G1 was over so it was bitter sweet.
REACTIONS
This was a wrestling event that I will never forget. The journey it took me on was unexpected and in the end I was thankful for. The NJPW G1 Climax brought back the excitement for wrestling that had been missing since I started watching RAW again. The fact that matches meant something and you get points for a win felt so new to me, which it was since this was my first G1. This tournament rocked my world, It consumed hours of my life that never felt boring. I saw so many great matches and was finally exposed to the wrestlers of New Japan. I'm excited to see whats next in NJPW and to follow all these guys paths. If I could hug everyone who added to my journey I would, the best I can do is steal a Sealia Bloom saying, virtual hugs.
———–
Special Thanks to
Skillcrane
Man if it wasn't for Skillcrane I wouldn't have had anyone to talk G1 with every day. Skill was the guy who encouraged me to sign up to NJPW World online and even helped me sign up. So it goes without saying my first born child will be named after the man.
Laritoooo
The man that is Laritoooo is The GIF God. His GIF making performance during the G1 Climax was legendary add to the fact the Voices of Wrestling staff would use his work in their stories made him part of my journey.
Sean Radican (PW Torch)
One of the guys along for the ride during my journey was Sean Radican. He was PW Torch's G1 correspondent. Radican didn't watch the undercards and that was fine, I had other sites that covered them if I was interested. He did however have the results. Radican is really thorough with his coverage, always telling you how many points a wrestler has and what title belts they have and past winners. No other site added that kind of stuff and it made Radican stand out. I enjoyed his description of the match and his own thoughts about it. He also gave matches star ratings which I love to compare with other news sites. Killer work Radican. Your articles were fun and informative during my G1 journey.
Bryan Rose (Wrestling Observer)
This guy was on fire! Rose wrote mainly for Wrestling Observer but would show up time to time on Voices of Wrestling. Right away I could sense his excitement and that helped fuel my own excitement at times. Rose was up early covering the event live, he must of been dog tired by the end of this thing. He was solid with his coverage on Wrestling Observer, I never felt like he wrote too much and never felt he wrote too little it was a nice quick read. When he had a review on Voices of Wrestling it was a little bit more loose. Adding in GIFs, star ratings and his final thoughts. Besides his articles, Rose is a guy I would interact with occasionally on Twitter and had some fun tweets during the event. Bryan was a shining light of positive energy that didn't go unnoticed by me.
Joe Lanza, Rich Kraetsch & Rob McCarron (Voice of Wrestling)
Voices of Wrestling absolutely nailed the G1 Climax coverage from all angles. Rob McCarron's video highlights of each night was really quality stuff until they got taken down from YouTube. Whatever, it's all good. VoW had way more stuff for me to enjoy.
Between the 3 guys and an occasional Bryan Rose review, these guys were the best. They all add GIFs from LARITOOO!!! in their articles, and really have the knowledge about NJPW World that really came across. All the reviews had star ratings and fun personal insight to matches, which I need. They also had great coverage of the undercard. At the Midpoint of the tournament they did a podcast, and it was cool hearing all 3 guys on one show. That podcast got me pumped for the rest of the G1.
But the best part of Voices of Wrestling was the G1 Pickem, where hundreds of people filled out their picks.. It was super smart to have this contest on VoW, it kept me on the website checking the ranking and where I stood. It really kept the whole community following along with each other, I can't say enough how awesome this was. Everyone that contributed to VoW helped make this a really cool experience.
———–
This song basically sums up my 2015 NJPW G1 Climax experience…