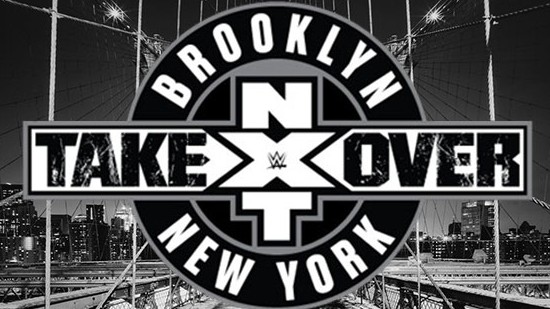 Preview Special: NXT Takeover: Brooklyn
Your guide to the best preview coverage of WWE's NXT Takeover special from Brooklyn this Saturday night. 
"…The hottest brand in WWE." (F4Wonline)
"…[Their] most important show to date." (Voices of Wrestling)
"The biggest indication yet that NXT can justify itself as a stand-alone brand" (Bleacher Report)
Welcome to the Sheet Sandwich NXT Takeover: Brooklyn Preview Special, where we size up the Good, Better, Best of top (plus the Bad and Ugly of the worst) Previews for Saturday night's big event set for the Barclays Center in Brooklyn, New York.
As you'd have every right to expect from the above, we rate these on a scale of Good, Better, and Best, starting with the best (this "winner," if you will) and working out way down from there.
It's clear from reading each of these that a lot of hard work and passion went into writing and researching them and, truth be told, there is probably something of value in nearly all of them (well, except for the ones that didn't exist… looking at you PW Torch and ProWrestling.Net).
We hope you enjoy the following compendium of top (and bottom) previews for this weekend's NXT Takeover show.
BEST
Voices of Wrestling – NXT TakeOver: Brooklyn (Preview & Predictions)
By Rob McCarron, Alex Wendland, Joey O'Doherty
Without hesitation the best review of the bunch here, with a well-written overview of the event and its setup, followed by clear, concise predictions from the three staff panelists.
A couple of minor nitpicks might be that, when doing panel predictions like this, on a site with a large list of bylines, noting in the intro or footer of the piece the author's other contributions can be helpful.
It by no means detracted much from the article, but as someone who wasn't as familiar with Alex Wendland as I was the other two, it was something that I found myself having to look for rather than easily presented to me somewhere in the piece.
Rob McCarron is also among a select few previewers on the internet who thing Kevin Owens is walking out with the NXT title Saturday night, which is a pretty bold, balmy prediction.
In setting the stage for the event as a whole, the article raises the questions I think a lot of people look to be asked coming out of the event:
Is this something sustainable for a developmental brand that will theoretically continue to cycle out stars to the main roster — two, perhaps, after Saturday's show (in Sasha Banks and Kevin Owens)?
Was the intrigue simply a byproduct of a busy wrestling weekend and working a show the night before WWE's SummerSlam 2015?
Is this the peak, or the start of something even bigger?
The preview also frames, nicely, the main points of the show; its pillars. It sets the stage for the double main event, Balor vs Owens, as well as Banks vs Bayley, while also calling attention to the other major draw — Justin Liger on a WWE card for the first time ever.
The formatting is really good, in that each writer gets to give a blurb about what they expect of the match, before a bold predicted winner is called out. There's no waffling here, and no missing who each guy thinks is going to win.
It's easily scannable, and you can quickly scroll through and get each guy's POV on their expected winner without even needing to read the whole preview if you wanted to. Very few other options I read offered that – and with the few it was damned near impossible, because the predictions were buried.
As Sheet Sandwich readers will read over the coming days, there really no questioning anymore the value Voices of Wrestling brings to the table of wrestling news sites with their multiple, different perspectives, unique voices and ever expanding content.
If you're a wrestling fan who likes to read wrestling analysis, coverage and opinions breaking down the hot topics (and even some lukewarm ones) in the industry and aren't reading Voices of Wrestling, you should ask yourself why, because this NXT Preview is far from the only thing they've done well.
BETTER
Cage Side Seats – WWE NXT TakeOver: Brooklyn predictions
By Sean Rueter (and a cavalcade of others)
CageSideSeats came out of nowhere with this one in offering some tremendous preview content that truly put it in contention for our BEST award for this event. Ultimately, it was a simple call as to why it didn't win, but that shouldn't detract at all from the content and formatting of the preview.
Rueter here does a nice job setting the stage for the event, and then delivers a promising, if somewhat clumsy, promise:
If you're new or just getting back in to what many feel is the best wrestling show WWE produces week-in and week-out, we've got previews of what each of the matches on the card coming up for you later today.
Syntax aside (editor's note: I've been getting the hammer dropped on me a bit too much lately for nitpicking this while rushing through my own articles to such a degree that my own typos have become a "thing" so I'm really trying to let that one go a bit)… anyway, syntax aside, the promising part what Rueter teased there actually ends up being a remarkable treat above and beyond their standard preview. More on that a bit later.
Where this preview falls just a little short is in something that, potentially, others might find endearing. And, if you do, flip-flop this and the VOW review. For me, as someone who is not yet really a "Cagesider" per se, it wasn't enough to tip me over that edge.
Rueter promotes that this preview is himself and a "motley crew" of NXT evangelists to help make up his prediction panel, with such luminaries as TMadeBurner, KDidz, ReverendKain, and Vidence. Issue here, for me, being that these sound more like message board names than authors. Which is ironic given one of our top contributors to the Sandwich is named MeatyFist. But, then again, you can click on his name for a short bio and summary page of previous submissions. And before I dismissed this preview, that's exactly what I hoped to have available to me on Cage Side Seats. Unfortunately, I couldn't.
I soon, though, got over it, and got into the predictions themselves.
Fine formatting, straight forward picks, really nice visual element to make the read more scannable as to what match we were previewing.
Rueter has a nice style about him, and clearly cares a lot about the topic here, while the rest of his panel were concise and straight forward in their picks.
By far, though, the bonus here is in Rueter going the extra mile and then some.
In three separate articles, Rueter pulls together some of the most comprehensive, well put together primers on a wrestling show I've seen anywhere. They're truly impressive. He offers rundowns of what is behind the setup to each match and angle, with video clips from previous shows leading up to the matches, and some interesting tidbits of information on them, too.
It's excellent work, and I'm happy he's on my radar now.
Check out Rueter's primers on:
GOOD
PWInsider – WWE NXT Takeover: Brooklyn Tip Sheet
By Dave Scherer, Mike Johnson & Richard Trionfo
On the surface this one has everything I like about preview articles breaking down main shows. We have multiple points of views by the voices of the site each giving their thoughts on what they expect out of the match, as well as a point of view on who the winner should be.
But it doesn't rise above just "good" for me for a couple of reasons that stick out:
One is that Mike Johnson tends to outsmart himself a lot, as he does in the Bayley vs Sasha breakdown:
I could see WWE faking us out by having Sasha win and then dropping it down the line to Bayley.
And again when examining Liger vs Breeze:
I can see them giving Liger the win just because everyone "expects" Breeze to win
Which is then exacerbated with the following outlandishness:
To me, it's about the chance to see Liger in a WWE ring more than anything else. Who wins is immaterial.
He also predicts that Samoa Joe will defeat Baron Corbin because, "Joe is obviously being primed for Finn Balor," which I can't imagine being obvious to anyone right now given what's actually been shown on NXT tv.
This outcome was also not so obvious to either of his cohorts, as Scherer predicted Corbin because, "Joe winning here wouldn't mean anything…" and Trionfro was two dumbfounded as to the match to even make a firm prediction.
The other strange thing about this preview is how they breakdown all of the matches from tomorrow night's card, regardless of whether the matches are for the Takeover special or for the Wednesday, August 26th show.
Fortunately, they do call it out in the intro to the Takeover preview, and have apparently included it because they expect to have live coverage as the matches take place in the arena Saturday night, so I can't dock them at all for including them.
I guess they'll just have one less thing to write about next week as Wednesday approaches.
BAD
F4Wonline – WWE NXT TakeOver Brooklyn preview
By Emerson Witner
Witner is F4Wonline's regular NXT writer, so he is well versed in the angles and storylines leading up to Saturday's show. He stumbles a little out of the gate by raising what I for some might be an interesting concern, but I can't possibly fathom being an issue:
My only worry is how many people will truly be familiar with the NXT product. There is the possibility that a good chunk of the crowd will be families and kids who couldn't get tickets to SummerSlam because of the cost and good ticket availability and are now going because it's WWE.
Witner pulls it back at the last minute, writing "Of course this could just be me overthinking it…"
The problem here, though, is that he only really gets behind a couple of the predictions in these matches. And even then one is a no-brainer (Apollo Crews).
For the most part he sticks to wishy-washy, vague predictions like:
"…it seems to be a foregone conclusion that Bayley walks out with the 8 pounds of silver and purple."

"Liger will probably win, but Breeze has this odd ability to win matches you assume he won't."

"As for the match itself, I think it will be the weakest match on the card, but it shouldn't be a bad match and will probably involve a title change."
Witner also informs us that "it really doesn't matter who wins" in the Corbin vs Samoa Joe match which is actually more ridiculous here for Witner on this match than it was for Johnson when he wrote it about the Liger/Breeze match.
UGLY
UPROXX – Your Official With Spandex NXT TakeOver: Brooklyn Predictions
By Brandon Stroud and the With Spandex Team
This kicked off bad and got worse for me. Maybe I just don't "get" With Spandex (highly likely), in which case move this into the missable bucket and out of the ugly if that helps.
Stroud does an okay job with his set-up primers, and predictions to such a degree that he should probably have just stopped there, and we'd easily have a preview/prediction article that eclipses the effort put forth by young Mr. Witner from F4Wonline.
The actual problem here, for me, is with some of his cohorts.
Chris Trew writes of the Apollo Crews match:
While I cannot predict a straight outcome to this match, I can certainly predict that my affection is up for grabs here. I'm ready to be won over by some new blood. So I'm saying it here first — whoever wins this match becomes my new favorite NXT wrestler. My last favorite NXT wrestler was Sting, and he got to be on WrestleMania this year. So, you know.
I can only assume this is meant to be comedy?
Maybe. Whatever it is it has no place in a preview/prediction panel. Again, maybe I just don't "get it."
Trew is far from the worst, though… that trophy is still hoisted aloft by Danielle Matheson.
She is #ShootAnnoying on a level the extent to which I have rarely encountered, and instant poison to my eyes in any article I read.
But don't just take my word for it… let's review, together, some of her stunning repartee:
On Crews v. Dillinger:
"Oh man oh man oh man Uhaa Nation is HERE and he's gonna do so much FLIPPY STUFF and look so STRONG because he is CRAZY STRONG and everyone's gonna LOVE HIM and I'm super sorry Tye but this pick is TOO EASY because I am super not hiding my incredible bias APOLLO CREWS AND ENDLESS HEART EMOJIS DUH"
On Blake & Murphy v. Vaudevillains:
V-A-U-D-E-V-I'm tired of spelling this out, but who I'm rooting for should be clear.
On Samoa Joe v. Baron Corbin:
I'm told "wet fart in a paper bag" isn't a prediction, so uhh… maybe they'll surprise us both!
Okay, hopefully that brings it into focus for you. And if not then, yeah… I just don't get it.
MISSABLE
These were previews I started to read but abandoned part way through because of insurmountable issues due to formatting.
WhatCulture – 6 WWE NXT Takeover Brooklyn Results Predictions 
By John Canton
First, I have to say this isn't a reflection on Canton's writing or opinions presented… this has to do with formatting. It's one of those multiple-page posts where the content isn't in line as a full article. Each match is previewed and predicted after you click Next, which forces the reader to confront more and more obnoxious ads on the level of what we find over at F4Wonline.
Bleacher Report – NXT TakeOver Brooklyn 2015: Final Predictions for Event's Biggest Matches
By Aaron Bower
Same holds true for Bleacher Report's Bower. Nothing against the preview itself, because I didn't check the whole thing out. But I can't bring myself to wade through multiple pages of an article like this,
It's simply a more-clicks/more eyes on ads gimmick, and nothing to do with the content.
Pass.
WrestleZone – Complete NXT Takeover Brooklyn Coverage & Card
By Bill Pritchard
Lame!
First of all, they get you with a title "Complete NXT Takeover Brooklyn Coverage & Card" but when you click into the story by Bill Pritchard you get a new headline
"Updated WWE NXT Takeover Brooklyn Match Card: 10 Announced Matches, Hideo Itami Appearance, WZ Live Coverage & More"
Followed by a short blurb:
The following is the updated and likely final card for this Saturday night's WWE NXT Takeover Brooklyn special airing live on the WWE Network.

WZ will be providing complete, LIVE play-by-play coverage of Takeover Brooklyn beginning at 9pm EST on Saturday night, so be sure to join us then!
And a list of matches.
Lame!
ABSENTEES
ProWrestling.net
This one surprised me actually, but there was no preview running down this show. At least not to the level of any of the above sites. I may have missed a match listing somewhere, but other than that… a big stack o'nothin.
PW Torch
Caveat here that Wade Keller of the PW Torch did have somewhat of a previewing talking over the card, and highlights to look for on the event during his Thursday night VIP Audio show, but I think the new paradigm and expectation here needs to be that the premium sites keep up with the free sites when it comes to content.
See to Believe it:
Camel Clutch Blog – WWE NXT TakeOver: Brooklyn Will Be Better Than SummerSlam 2015
By George Carlo
Carlo does his able best to give Joe Babinsack a run for his money in this monstrous article on the show.