Embarrassing lack of preparation taints Wrestling Observer coverage of WWE Q2 earnings call
During their breaking news audio discussing WWE business for the second quarter late Thursday morning, Dave Meltzer brought up different pricing options being considered for the Network. One of them was the possibility of giving a price break for customers who subscribe for a full year.
Alvarez quickly scoffed at this, saying that it wouldn't matter to the business because people could just cancel their credit cards as they did during the initial subscription model (where the Network subscription was billed as $9.99 with a 6 month commitment).
Meltzer agreed, saying that might be true.
The problem here is in the language, and not understanding the nuance of how the different models work.
Under consideration is a price break for a year-long SUBSCRIPTION to the Network, not a year-long commitment.
Under the latter, the cost would be billed monthly over the terms of the commitment, which is what Alvarez and Meltzer must have mistakenly thought.
But with the terms of a yearlong subscription, the cost would be billed up front, in a full year sum. It's thought that they could charge offer long-term subscribers a savings of around $20 by charging between $7.99 and $8.99 per month, whereas someone paying month-to-month at $9.99 would end up spending just shy of $120 per year on the Network.
The really bizarre part about this mix up is that this is precisely the pricing model utilized by F4Wonline, where you get a price break if you sign up, and pay, for a full year's subscription up front.
Buried about a quarter of the way down today's Daily Update on F4Wonline, Dave Meltzer issued a correction, writing:
A note on today's audio when talking about a one-year WWE Network subscription, there wont' be a problem with people canceling because a one-year discounted subscription would all be billed up front as opposed to being billed monthly.
Also of note is how, a short way through their podcast covering the earnings, Meltzer admitted he hadn't even listened to the call George Barrios and Vince McMahon had with analysts this morning.
While there is probably no material difference in using the written release information to form the basis of your "breaking news audio covering WWE's quarterly earnings report and call…" a subscriber to the site might have a reasonable expectation that the principles of the premium site hosting the podcast might have listened as a prerequisite of offering the content.
We here at Sheet Sandwich are confident that by the time the Wrestling Observer Newsletter comes out in approximately one week, Meltzer will have listened to an archived version of the call to give us a complete, albeit less timely, 360 degree overview of the earnings report and call.
Interestingly, as I listened to the call, and followed along with some of the live coverage on other websites (like Jason Powell of prowrestling.net) as well as on twitter, I noted how Barrios was dodging questions related to month-to-month trends as well as conversion of those taking advantage of the free trial month being retained as paying subscribers. That information would not be found in the earnings report, as it only happened on the call.
Looking forward to reading Dave's analysis of that in a week.
Later Thursday afternoon Bryan Alvarez on the opening segment of his Wrestling Observer Live radio show seemed highly confused as to what a "quarterly earnings report" actually pertained to, when he told the listeners of the most widely listened to pro wrestling radio show in the world that the 1.156 million subscriber number, while not exactly the number as of today "might have been a week ago, or something like that."
End of June, Bryan… End of June.
Again, oddly enough, the correct information was to be found on his own website, where written report of the quarterly "busines news" (as the article is headlined) reads:
The key number is the network itself, which on June 30, 2015, had 939,000 subscribers in the U.S., 217,000 subscribers outside the U.S., and at that point had 71,000 people taking advantage of free month subscriptions. The total subscriber number was 1,156,000, down from 1,327,000 at the end of the prior quarter.
PW Torch's James Caldwell offered a recap of the call, along with actual quotes from Barrios and Vince McMahon.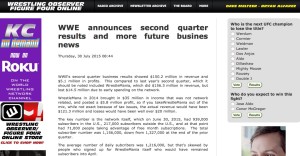 Mike Johnson from PWInsider also had live coverage of the earnings call as well which you can read here.
Chris Harrington, our guest previewing today's WWE earnings report and call on Talking Sheet earlier this week, who is one of the foremost analytics experts in the pro wrestling industry was live tweeting during the call, which you can read through on his twitter here.
An entire transcript of the call can be read here at SeekingAlpha.com.