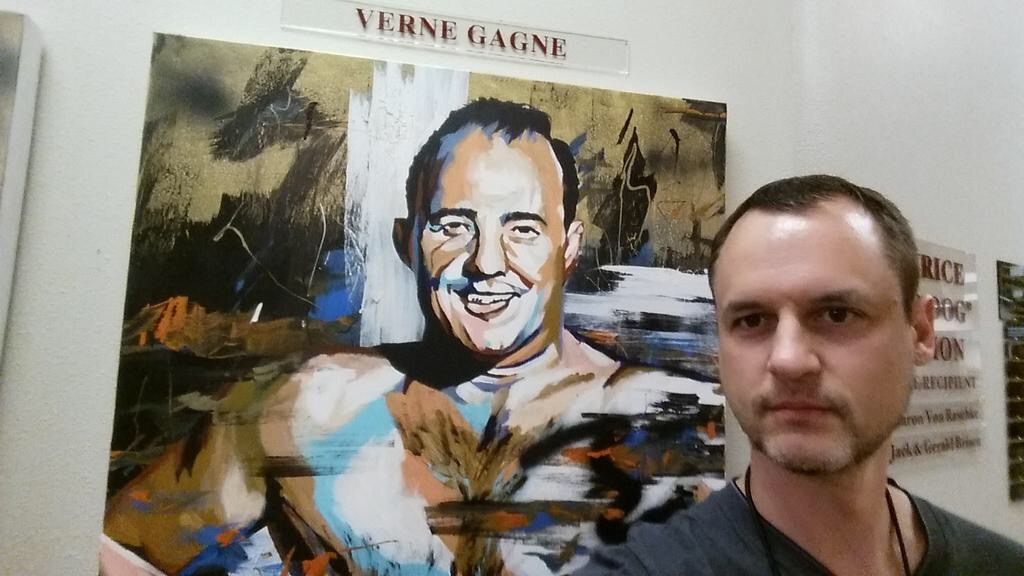 28-Year Wrestling Newsletter Veteran to Become the 11th Recipient of Melby Award For Journalistic Excellence
Pro Wrestling Torch founder and editor Wade Keller will accept the Jim Melby Award this week during the George Tragos/Lou Thesz Professional Wrestling Hall of Fame induction weekend in Waterloo, Iowa at the National Wrestling Hall of Fame / Dan Gable Museum.
Keller, 44, founded the Pro Wrestling Torch newsletter in 1987 at the age of 16, and, being from Minnesota,  grew up a fan of Verne Gagne's AWA wrestling. Keller has talked many times over the years of his fondness of the AWA, and being there at the matches during its heydays before the WWF talent raids took much of the promotion's talents.
Since then, Keller has becoming a leading voice in the industry, reporting news and offering analysis of major stories both in his newsletter, and on his website, which launched in 1999.
"I am honored to be recognized by an organization as prestigious as the National Wrestling Hall of Fame Dan Gable Museum," Keller said in February when it was first announced that he was planned to be recognized. "My work covering the pro wrestling industry for the last 27 years has been a thrill, as unpredictable a job as I can imagine."
While naturally the work Keller does would be compared to and, in some respects, measured by the work done by Dave Meltzer at the Wrestling Observer, the Torch has evolved its own brand of wrestling reportage. Early strong points that set it apart from the Observer were the Torch Talks series–published interviews with top stars and up and comers in the business. Over the years Keller has published interviews with everyone from Vince McMahon, Jim Crocket and Bill Watts to Eric Bischoff and Vince Russo.
In addition to being among the most widely read sources in pro wrestling insider news and information, Keller was also a pioneer in providing original insider wrestling content online, and in the form of audio on his site as well.
Keller is also the host of the PWTorch Livecast, one of pro wrestling's only live daily call-in talk shows.
The Torch Newsletter, while being one of the premier sources of wrestling news in the industry of insider wrestling coverage, also set the bar for aesthetics in the newsletter business.
The publication set itself apart from other underground publications, like the Wrestling Observer, by offering a more professionally laid out newsletter, akin to that of an amateur magazine.
The newsletter often contained images, as well as actual section breaks and font changes.
Keller also has been joined over the years of a full staff of contributors offering a wide range of perspectives in the industry and has, in many ways, been considered the primary influence of, and blueprint of Bryan Alvarez' Figure Four Weekly.
The PW Torch staff features columnists Bruce Mitchell, Pat McNeill, James Caldwell and Todd Martin as well as columnists Sean Radican and Greg Parks. Each add their own, unique insights into professional wrestling, making the Torch one of the most, if not the most, well-rounded source of news, information and analysis of professional wrestling available.
The award is named in honor of Jim Melby, a professional wrestling historian and journalist who set the highest standard within his profession. First presented to Melby himself in 2006, the award recognizes excellence in professional journalism.
Parallels between Melby and Keller are actually pretty uncanny.
Both from Minnesota, Melby's first publication was Matmania which he started aged 15. He would later join Kietzer Publishing as an editor of numerous wrestling magazines including The Wrestling News, Wrestling Revue, Wrestling Monthly and The Ring's Wrestling Magazine.
Other past recipients of the Melby Award include:
2014  Larry Matysik
2013  George Napolitano
2012  Bill Apter
2011  Scott Teal
2010  J. Michael Kenyon
2009  Mike Mooneyham
2008  Greg Oliver and Steve Johnson
2007  Mike Chapman
We here at Sheet Sandwich congratulate Keller on receiving this well-deserved award.